There is nothing intrinsically different about training a puppy, when compared with training an adult dog.
A puppy may have a shorter attention span, but modern training is all about fun, not concentration.
The reason that people sometimes see puppy training and grown up dog training as separate endeavours, is that in the days of punitive dog training methods, puppies simply would not cope with 'serious' training at an early age.
Modern training methods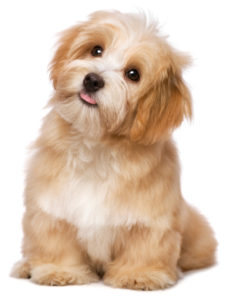 Nowadays, dog training methods are largely positive in nature.
We focus on teaching the dog what to do, rather than correcting him for going wrong.
You can find out all about that here.
When to start
So you can start training your puppy at a very early age.
And provided that they are books that are based on positive reinforcement training, you can use books that are broad based 'dog training' books rather than those specifically aimed at puppies.
Here are some to get you started. A couple are written by me, and as I might be biased,  I have pointed them out and marked with a * so you can ignore them if you wish!
The others are great choices too, for a new puppy owner.
1 Clicker training for dogs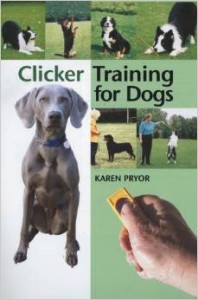 Karen Pryor is of course the mother of modern dog training. You can read all about her in this article.
Her clicker training system will help to give you a perfect grounding in modern dog training methods.
You don't have to use a clicker in order to follow the book, you can easily substitute the 'click' with a word like 'yes' or 'good' provided you are able to make it sound distinctive and consistent enough.
Click here for more information: Clicker Training for Dogs
2 Brain games for puppies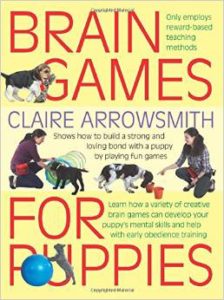 Following on the huge success of Brain Games for Dogs, author Claire Arrowsmith  and her team published Brain Games for Puppies in 2014.
Claire's books are always sumptuously and beautifully illustrated with clear explanations
We're sure this will be another hit with puppy owners
Click here for more information: Brain Games for Puppies
3 Total recall*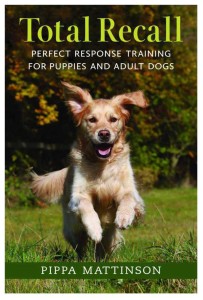 Total recall is an unusual dog training book in that it focuses on a single skill.  Getting a dog to come back.
I wrote Total Recall because so many people were writing to me asking for help with recall problems
It's a complete recall training system, designed to get your puppy racing back towards you, no matter where you may be.
Click here for more information: Total Recall
4 Train your dog positively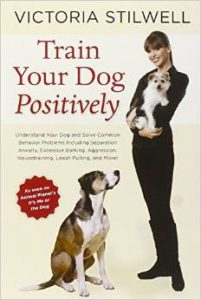 Victoria Stillwell is passionate about positive reinforcement dog training.
Her book "Train your dog Positively" is a great resource for new puppy owners
And for those with older dogs
Click here for more information: Train Your Dog Positively
5 Perfect puppy in 7 days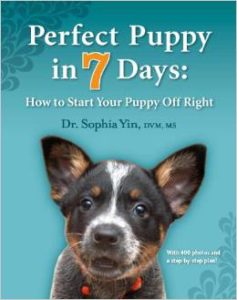 Sophia Yin's untimely death was a huge loss to the dog world, but fortunately she left behind a great deal of her wisdom.
And you can find some of it, in this book.
Despite the unrealistic title (you can't actuallytrain a puppy in 7 days) this easy to read book is a useful addition to the puppy owner's bookshelf
Click here for more information: Perfect Puppy in 7 days
6 The Culture Clash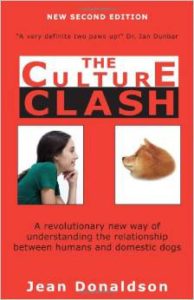 The Culture Clash by Jean Donaldson is a simply outstanding contribution to our understanding of the canine/human relationship
If you only read one book, before you bring home a puppy, this would be a good choice.
It will help you get right inside your future dog's head.
Click here for more information: The Culture Clash
7  The Happy Puppy Handbook *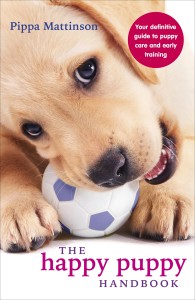 The Happy Puppy Handbook has been a bigger success that I could have imagined.  And I've been privileged to receive many wonderful reviews.
But I'll let you draw your own conclusions.
It is intended to be a complete and  definitive guide to puppy care and early training.  I hope you enjoy it!
Click here for more information: The Happy Puppy Handbook
Your favourites?
There are so many wonderful books on dogs, we could go on and on.  But how about adding your favourites and recommendations in the comments box below: