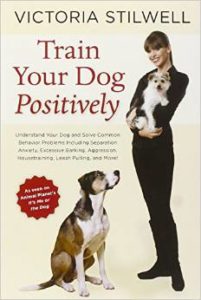 From popular TV dog trainer Victoria Stillwell, this book focuses on force-free methods of training your dog.
With a personal touch, she looks at how you can use scientifcally proven behavioural training techniques to improve your dog's beahviour.
The book hopes to help you not only have a better behaved dog, but one that is more confident and has a better bond with you too.
It contains sections on some common dog problems such as separation anxiety, barking, aggression, house training and lead work.
Where to Buy?
Train Your Dog Positively is available from all good booksellers, or you can buy your copy online now:
Please note that the links on this page are affiliate links. Totally Dog Training receives a small commission on affiliate sales. This does not affect how much you pay, and we very much appreciate your support.