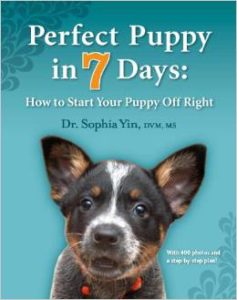 This book was brought to you by world renowned dog trainer Dr Sophia Yin.
Sophia was an expert in applied animal behaviour, as well as being a veterinary surgeon, animal trainer and lecturer.
With 400 photos and a step-by-step plan, her book visually guides you through fundamental and important aspects of taking on a puppy.
All the while making the learning process fun for you and your dog.
The chapters look at how your puppy developed before you got her, when to start training, preparing for your puppy, house training, obedience training and socialisation.
Where to Buy?
Perfect Puppy in 7 Days is available from all good booksellers, or you can buy your copy online now:
Please note that the links on this page are affiliate links. Totally Dog Training receives a small commission on affiliate sales. This does not affect how much you pay, and we very much appreciate your support.