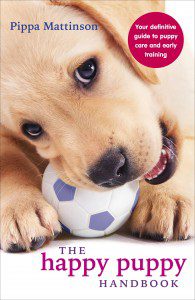 The Happy Puppy Handbook was inspired by the problems faced by new puppy owners.
Carefully created to enable new puppy owners to raise a happy and healthy puppy.
All without turning their lives upside down in the process!
It will help you to enjoy your new role as a dog owner, and to solve any problems that you may face along the way.
About the Author
Pippa is a keen supporter of modern, science based dog training methods.
She is also very passionate about helping people to enjoy training and living with their dogs.
You will find the attention to detail, easy to follow explanations and well organised exercises very helpful.  As well as being reassured by the focus on information, and evidence that backs it up.
Where to Buy?
The Happy Puppy Handbook is available from all good booksellers, or you can buy your copy online now:
Please note that the links on this page are affiliate links.  Totally Dog Training receives a small commission on affiliate sales.  This does not affect how much you pay,  and we very much appreciate your support.