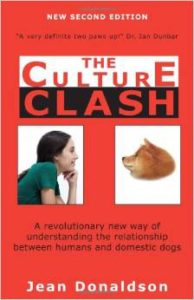 Jean Donaldson's popular book The Culture Clash was first published in 1996.
She takes a close and informed look at the often unreasonable expectations we place on our dogs.
Helping us to work with them, by explaining how they really think and learn.
It isn't just about training either.
There is a lot of information about some very current topics such as aggression and socialisation.
If  you are keen to get inside your dog's head,  this book leads the way.
Where to Buy?
The Culture Clash is available from all good booksellers, or you can buy your copy online now:
Please note that the links on this page are affiliate links.  Totally Dog Training receives a small commission on affiliate sales.  This does not affect how much you pay,  and we very much appreciate your support.