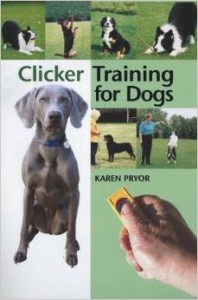 Clicker Training for Dogs is a great introduction to the basics of one of the world's favourite dog training techniques.
Karen Pryor developed Clicker Training as a method of training dogs without force, and based on the principles of behavioural science.
Clicker training works for all dogs and for all dog handlers.   No myths, mystery, or hidden talents are required
This book is a great companion for the beginner clicker trainer, or anyone new to dog training.  A must have for anyone who is interested in how dogs learn, and how to raise an obedient pet.
You can use this link to buy  Clicker Training For Dogs 
 from Amazon
This is an affiliate link and Totally Dog Training receives a small percentage of each sale, for which we are very grateful.  This does not affect the price you pay for the book.