Traditional dog training techniques were quite different to the modern methods that most of us are now using.
Modelling was a popular way of establishing new behaviours.
It involves physically manipulating a dog into a specific position.
What is modelling
You have probably seen old videos of a trainer pulling up on a dog's lead or collar, whilst pushing down on his bottom, and barking 'SIT' at the dog.
All at the same time.
This was how I was taught to teach a dog to sit in the 1960s.
Does it work?
Eventually, if repeated frequently enough, the dog begins to grasp that the word you are saying is always associated with his bottom reaching the floor.
Modelling is often accompanied by mild punishment, so that dog will be tapped under the chin, or smacked on his bottom, if he goes to lift it off the ground.
Over time, he learns to sit and stay sitting in order to avoid being manhandled and corrected.
What is bad about modelling
There are several problems with modelling.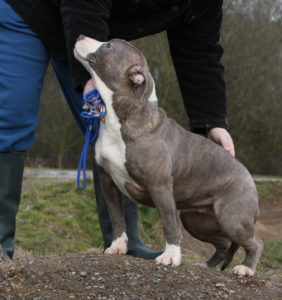 Delayed learning
Limited applications
Aversive nature of the technique
Link with additional punishment
Delayed learning
All dogs naturally resists pressure on their back or bottom.  In order to resist this pressure a dog has to activate a specific set of muscles.
These are the very muscle groups that need to relax, in order for the dog to drop into a sitting position.   This conflict delays learning
If the dog is volunteering a sit, learning is much faster because he associates the cue 'SIT' with the correct muscle activity.
Limited applications
Modelling also requires your dog to be next to you.
It is not effective for distance work, as your dog will quickly realise that when you are ten feet away you can't keep his bottom pushed onto the ground.
This limits its usefulness as a training technique
Aversive nature of the technique
When we manhandle our dogs, we are teaching them not just a command and response. We are teaching them that training is a negative experience.
Whether we use minimal force or not, the dog is not moving of their own volition. He is not carrying out an activity that he has chosen. And so the experience is not a pleasant one.  Dogs, like us, are more likely to engage in activities that give them pleasure.
A dog that has been taught to offer behaviours of their own free will is always more enthusiastic about engaging with the handler.  The handler becomes a source of pleasure, and the handler's own hands, a source of reward.
Associations with further punishment
Because a trainer relying on modelling will be unskilled in building duration to new behaviours without force, it is inevitable that further force will be required during the proofing process.
In order to move away from forced proofing, where punishment can easily become excessive, it is vital that the trainer is capable of establishing new behaviours without relying on modelling.
Alternatives to modelling
Modelling is used to establish new behaviours. A much faster and more effective way is to get the dog to offer new behaviours willingly, then reinforce them with rewards.  Common techniques that have replaced modelling are
You can find more information by clicking on the links.
Summary
In order to model a behaviour, we physically move our dog into the desired position.
Whether you use a hard rough shove, or just a gentle stroking push, any physical way of guiding his movement is a form of modelling.
The use of modelling is being replaced by more progressive and effective methods, and the use of modelling by a professional trainer is an indication that they have not kept up to date with the latest dog training methods and techniques.
If you enjoyed this article, you may also be interested in finding out more about The Downside of Punishment.