Clickers are a fantastic tool.
We make good use of them as 'event markers' in 'positive reinforcement training'.
They make a consistent and clear noise.
This allows our dog to know exactly which behaviour we are rewarding.
Clix Multi Clicker
One of the most popular clickers on the market is the Clix Multi-Click clicker.
This differentiates itself from other clickers, as it has volume control options.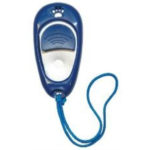 This means that when you are 'charging the clicker' with a young puppy or nervous dog, you can use a quieter click.
This is less likely to worry them, and will make it easier to get them accustomed to the noise.
Why not try one out yourself. They are available from Amazon here
.
Karen Pryor Big Button Clicker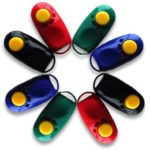 A nice alternative clicker is this big button clicker. It fits neatly into your hand, and makes a fairly soft click so as not to disturb nervous dogs.
It comes with a handy wrist strap, and is designed to be comfortable to hold
This helpful training aid has a raised button, and comes in a range of colour options.
They are also available from Amazon, here
.
Mikka Training Clikka Training Aid
The Mikka Clikka also a large button for easy use, with a consistent click at a single volume emitted each time you press.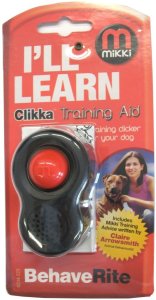 It comes with a finger band as well as a neck lanyard, so you can keep it safe whether it is in use or you are on the move.
The finger band also helps to keep the clicker in the right position, for easy access and quick use in training.
It is available from Amazon, here
.
Please note that Totally Dog Training receives a small commission if you make a purchase using one of these links. This does not affect how much you pay, and we very much appreciate your support.