This article is part of the 'language of behaviour' series.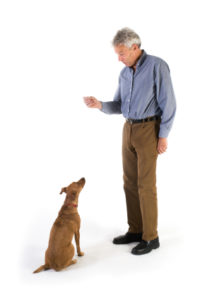 We all want our dogs to obey us.
And we all associate 'commands' with obedience
You command a dog to sit and if he is obedient he will obey.
Yet nowadays you will often find trainers talking about 'cues' rather than 'commands'.
What is a cue?
A cue is a 'signal' to the dog to begin a specific behaviour.
Some traditional trainers find the term 'cue' annoying.  They consider it psychobabble or jargon.
Hopefully this will become less of an issue as the word 'cue' becomes more widely used by dog trainers in general
A useful word
I think that 'cue' is actually quite a useful word.In early training, modern trainers don't 'command' the dog to act in a particular way.  They pair the 'cue' with the behaviour they want.  (Check out  Stage Two)
This teaches the dog the meaning of the word which will eventually 'trigger' the required behaviour.
To use the term 'command' at this early stage of dog training is a bit misleading.
It can encourage us to expect total obedience, and to be disappointed when that obedience is not forthcoming.
Let's get used to it
Switching from one terminology to another can also be confusing.
So for the most part, we now use the word 'cue' throughout the dog training process.
The training process is quite a journey,  and 'obedience' is not really achieved until our signals for specific behaviours to begin have been thoroughly 'proofed' in a variety of situations.
Only then, do these signals come close to being truly  'commands'.   But they will always be  'cues'.
It is a clear and simple word.   So let's get used to it!