Today's article is all about choosing which class to attend with your new puppy
This ought to be a straightforward decision.
You should be able to simply enrol at your nearest class.
But unfortunately all puppy classes are not equal.
There is no national curriculum for puppies.
No-one visits puppy classes to make sure that puppies there are well treated,  or trained using effective and humane modern methods.
It is down to you, the owner to find the right class, and the quality of any puppy class depends absolutely on the trainer
Who runs the class?
Many puppy training classes in the UK are run by self-employed, dog trainers.   There are a few chains/franchises, but again, these are not monitored or visited by any kind of supervisory body.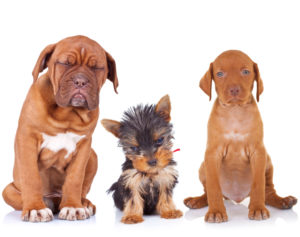 Some puppy classes are run by professional full-time dog trainers, but for many, this is a hobby.
The trainer runs classes in their spare time and has a completely different day job.
This is not a reflection on the trainer or the quality of their training, because there is currently no national standard for dog training in the UK.
No National Certification
There is no single, recognised qualification for dog trainers, just a bewildering array of different courses and certification systems that would be dog trainers can take, if they want to.
They are not under any obligation to do so.
You can set yourself up as a dog trainer tomorrow if you wish.  You can hire a hall, put up flyers, and do whatever you wish with unsuspecting dog owners that turn up.
This is the current sorry state of affairs in the UK today.
This is not about trying to scare you away from puppy classes or dog trainers, but it is important that you are aware of the situation.
So what should you be looking for in a dog trainer?  Let's first take a look at membership of a professional body or organisation.   Because that's important right?
Guilds, Associations, Societies
There are dozens of different organisations, the 'Guild of this' or the 'Society of that' claiming to be the professional body for dog trainers in the UK.
For the most part they are not.  And it is very difficult for dog owners to know what is a reputable organisation and what is not.
Association of Pet Dog Trainers
At the time of writing, there is however, an organisations that has gained a particular reputation as being trustworthy.  And that is  the Association of Pet Dog Trainers.
Whilst it does not guarantee that the class will be a great experience for your puppy, if a dog trainer is registered with the APDT they have undertaken to train dogs without force, and using modern science based training methods.
Brilliant trainers
Of course, what you want for your puppy, is a brilliant trainer.  And there are undoubtedly brilliant trainers both within, and outside of, the umbrellas of various organisations.
All around the country are many dedicated, professional, and very experienced trainers, using methods that will benefit you and your puppy immensely, help you to train him effectively, and without harm.
Your job is to find one of them, and to avoid the ineffective, uneducated and ignorant trainers that are still using sometimes brutal and outdated methods that were mainstream thirty years ago.
Finding a good class
A friend's recommendation can be a good starting point, but whether or not your local class has been recommend to you, it is important to go along and watch a session before actually attending with your puppy.
A badly run class can seriously dent a puppy's confidence.
The only way to be sure this is the right class for you is to go along and observe.   Whilst you are there, make a note of how the puppies are being trained and motivated.
How are they behaving? Are the puppies happy, excited, fearful?  Is there an atmosphere of calm or chaos? Are there too many puppies for the trainer to cope with?
Methods
There are a number of indicators that you have found a good trainer, and the most important is the methods that your trainer employs.  Make a note of what the trainer does when a puppy is not co-operating.
Rough handling is a very bad sign, and the trainer should be setting a good example and ensuring that class members behave calmly and positively.
Modern puppy training is fun, effective, and painless!  There is no need for your puppy to be punished in order for him to become a well behaved dog and all good trainers will use food and or toys to motivate puppies.
Puppies and supervision
A good puppy class is not a 'free-for-all'.  Puppies should be under individual control.  And any 'play-time' well supervised.  Puppies vary greatly in confidence, strength and determination and free time needs to be well managed to prevent smaller or more timid puppies being bullied and frightened.
Communication skills
Your trainer needs to be someone you can trust and relate to.  He or she should be approachable, someone that you feel comfortable talking to and that will be happy to answer your questions.
He should be calm and confident with the puppies and it should be obvious that he actually likes dogs.
If he doesn't fit the bill, or if the methods being used are not appropriate, or if the puppies are not adequately supervised, you need to vote with your feet.
Summary
There are plenty of good trainers out there, but you may need to hunt about to find the right one.
Choose a trainer that is a member of the APDT so that your puppy can benefit from modern force-free training methods, and visit the class before enrolling your puppy.
Be prepared to visit several classes to find the right one.  And if the only class within reasonable travelling distance sets alarm bells ringing, don't forget that you don't have to take your puppy to a class at all.
A good class is a great asset.  A bad one is worse than no class at all.
Many puppies grow into well trained and well rounded dogs without ever setting foot in a class.  What your puppy needs is to be well socialised and well trained.  Attending a class is only one of the different ways in which you can achieve this aim.
How about you?
Did you find a great puppy class? Share your experiences in the comments box below.