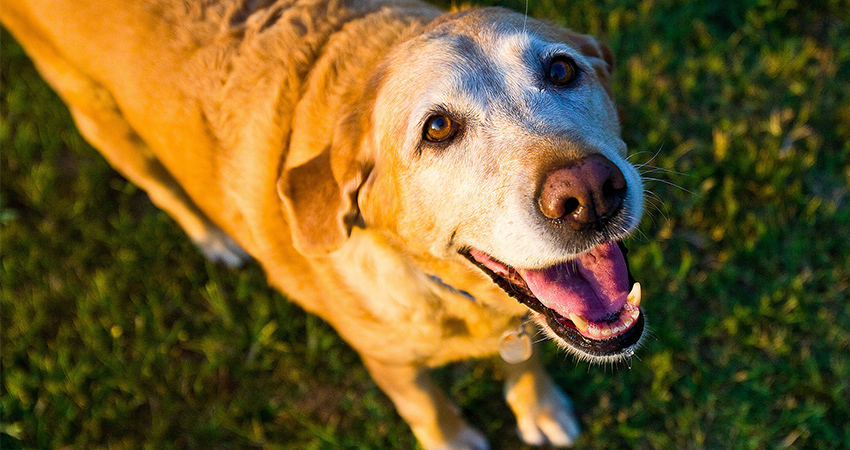 What do dog barks mean? Are our dogs trying to tell us something? We dig down into the origins of barking and find out what dogs are saying to us and to each other.
We know that dogs are descended from wolves and that wolves don't bark. So why do dogs bark?
Is it a way of communicating with the people that they live with? Or is there some other reason?
The ancestors of our dogs didn't bark. Barking developed during the long period of association with humans after the first dogs became domesticated.
So it seems reasonable to assume that barking in dogs, has developed as a means of communicating with their human friends.
Why Do Dogs Bark?
Dogs have other ways to make their feelings known, such as body language and eye contact.
However, many people are better at interpreting their dog's noises, than his more subtle body language signals
So for many dogs, barking is often the only way that they can make their presence felt. And it is quite an effective one too.
Dogs also use barking to communicate with one another.
A number of different types of bark have been identified, and dogs reliably use specific types of bark in specific situations.
We'll be looking at the contexts in which your dog is barking, and what dogs might be trying to tell us in these different situations.
But first let's look at problem barking or nuisance barking
Why do dogs bark too much?
Some dogs bark more than others. And in some dogs, barking can become a real nuisance.
This can be because the barking has been accidentally rewarded in the past.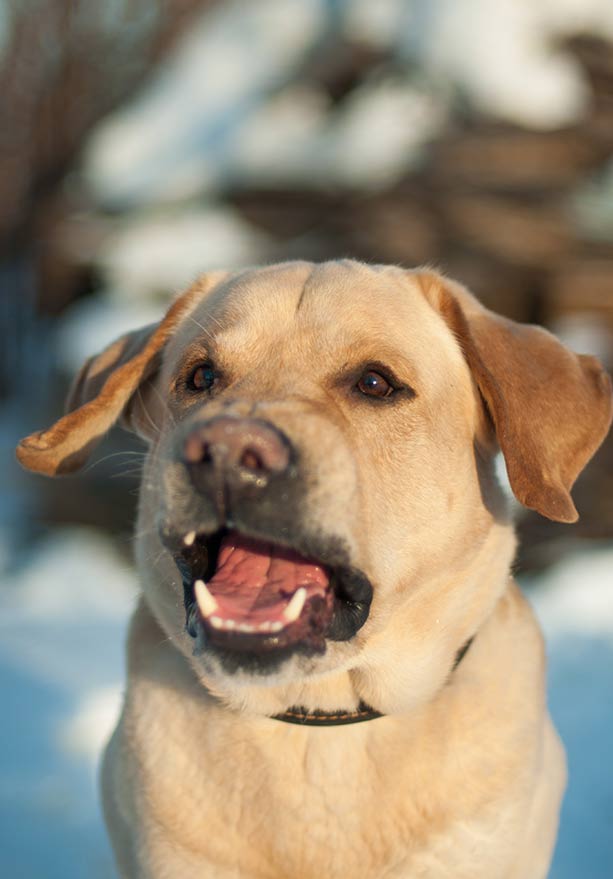 Or it can be because the dog has a genetic predisposition to being particularly vocal. Some breeds of dog are much more prone to barking than others.
It can also be because the dog has a problem, a health issue for example that is causing the barking and that hasn't been properly resolved. Boredom and loneliness are often contributing factors in nuisance barking
Whatever the reason, nuisance barking is a big problem for some dog owners and can even result in dogs being relinquished to animal shelters or euthanazed. So it's an important issue to tackle
Understanding why dogs bark and what they are trying to tell us, is half the battle to stopping them. And that's what today's article is all about. Let's take a closer look at that.
Dog Bark Translator
You can consider the next section of this article your Dog Bark Translator!
We will be looking into the situations in which your dog barks and helping you to discover the reasons why.
Further down you'll also find a video of different types of barks and what they mean.
Dog Barking At Night
When you bring home a new puppy or dog, you can expect that he might bark at night for the first few nights.
This type of barking is very specific – you'll hear clusters of long barks often preceded by howling.
It isn't difficult to recognize the distress signal that the puppy is sending out.
Your new puppy will be lonely, confused and won't know what to expect. However, this kind of noise normally rapidly reduces when the new pup settles in.
But what do you do if your previously quiet dog starts barking at night?
Try to narrow down the possible reasons.
Early Waking
If your dog is barking early in the morning, rather than in the middle of the night, then it can be simply as a result of early waking.
Because he's bored or ready for breakfast, so he will bark for attention. You'll often hear two or three barks then a pause as the dog listens to see whether or not he's managed to get you out of bed.
Barking At Night
Dogs barking at night, truly in the middle of the night or shortly after they have been settled to bed, usually have one of two motivations.
They may be barking to alert you to something that is causing them concern. Intruder alarm barks tend to be low frequency and occur in fierce volleys.
Wild animals sniffing around in the back yard, or neighbors returning late from work are common causes of this.
Setting up a webcam will help you to work out whether there is a definable cause of the barking, so that you can work past it.
It could also be as a result of a temporary urinary infection causing them to need the toilet, or having become older the dog is unable to hold their bladder.
Do rule out veterinary issues with a quick check-up.
Neighbor's Dog Barking
It can be incredibly frustrating to have a neighbor with a very barky dog. As it happens, my next door neighbor has a particularly vocal dog.
I simply need to say "It's only me" to him for him to stop if I'm in the garden. But not everyone is this lucky.
If you are on good terms with your neighbour, then go over in person and ask whether there is something you can do to help resolve the issue.
For example, getting to know the dog so that he doesn't feel threatened when you are in your back yard.
Try to remain very calm and friendly throughout the discussion, rather than complaining about the past irritation see if you can work with them to a resolution that keeps you both happy and their dog from disturbing the peace.
In many cases your neighbor will be just as fed-up the noise as you are. And may be glad of some help in resolving it.
Why Does My Dog Bark At Me?
If your dog is barking at you, then they want to communicate something to you.
Many owners unwittingly encourage barking from the day their puppy comes home. The puppy barked, you responded in the way they wanted, and therefore accidentally reinforced the behavior.
If barking works, then the puppy will bark more.
Barking For Attention
Some dogs bark at you when they want your attention. Here are some common things that your dog might want from you:
To be let into the backyard
To be let back into the house
To let you know the a visitor has arrived
To get you to play
To ask for something you are holding
To ask to be fed
You can work out what your dog wants based upon the context, and sometimes even the type of bark that your dog is giving.
For example, when a dog is alerting you to something that they are worried about they will give out rapid, show barks. Often in response to visual stimuli, such as people walking past the house.
Most dogs when they want to be let through a door will bark just a couple of times and wait for you to respond.
Dogs wanting to play will offer higher pitched short barks
When you have established the reason for your dog's barking, you need to decide whether you are happy for it to continue. Most owners don't mind a few barks when their dog asks to go outside to the toilet or to come back in.
But barking for attention in general can quickly become tiresome.
You will need to adapt how you respond to your dog when they bark depending upon how you feel.
Barking When Left Alone
Labradors are intelligent animals, who love their families and want to spend their time together.
When a Lab is lonely he might well bark, probably in loud bursts over a long period of time. Like the puppy distress bark, the lonely bark is often interspersed with howling
If you are upstairs and your Lab is barking like this downstairs, wait for a pause in the noise before you reward him by returning to the room.
But some dogs bark when they are alone, because the owner has left the house and they are being left for too long a period of time. This results in them being lonely, bored or both.
You may need to look at how you are managing your time if this is a recurring issue.
Separation Anxiety
When being left alone results in extreme barking, chewing, destructive behavior, distress and messing in the house, then it is referred to as separation anxiety.
Predatory Barking
Barking at cats, birds or other wild animals is known as predatory barking.
This is a form of frustration, where the dog would like to chase a prey animal but is either restraining themselves or being physically restrained from doing so.
Helping your dog to find the experience of not chasing more rewarding than the chase will help to reduce his frustration and therefore the noise he makes.
Barking As A Greeting
If your dog barks when you get home, then this is usually a greeting.
Greeting barks are higher pitched, shorter and sound more 'playful' to the human ear
And are usually accompanied by a furiously wagging tail and open mouth.
My Dog Barks At Other Dogs
Dogs will almost all bark at other dogs from time to time. This will be for a variety of different reasons.
Excitement
Many dogs are very sociable. They want to meet, greet and play with everyone that they see.
Overly social dogs will often bark with excitement upon seeing another dog. Especially if they are restrained on a leash and cannot run straight up to greet them.
We take a look at dealing with this over excitement in regards to other dogs in this article on over-friendly dogs.
Play Barking
Many dogs, especially young ones, will play-bark. These are short yaps given out to try an incite another dog into their games.
A play-bark will often be accompanied by a play-bow, where they bend their front legs, with back legs straight and tail wagging.
Fearful Barking
If your dog has previously been attacked by another dog, or is naturally very nervous, then they might bark through fear when they see another dog.
I highly recommend seeing a qualified behaviorist who uses positive reinforcement training methods if you feel this is the case with your dog.
The behaviorist will be able to asses your dog's individual needs and work with you to slowly build up his confidence.
Annoyance or Irritation
Adult dogs will on occasion bark at other dogs, especially playful puppies, if they are annoying them. These will normally be short, lower pitched barks.
Territorial Barking
Some dogs will bark at other dogs only when they pass by the house. This self rewarding behavior occurs as the dog mistakenly believes that they are successfully discouraging an unwanted dog (or human) from coming into their house. When of course in reality the perceived intruder was simply walking past.
My Dog Barks At Nothing
It's all well and good translating a dog's bark when there is a clear reason. But what do you do when your dog barks at nothing?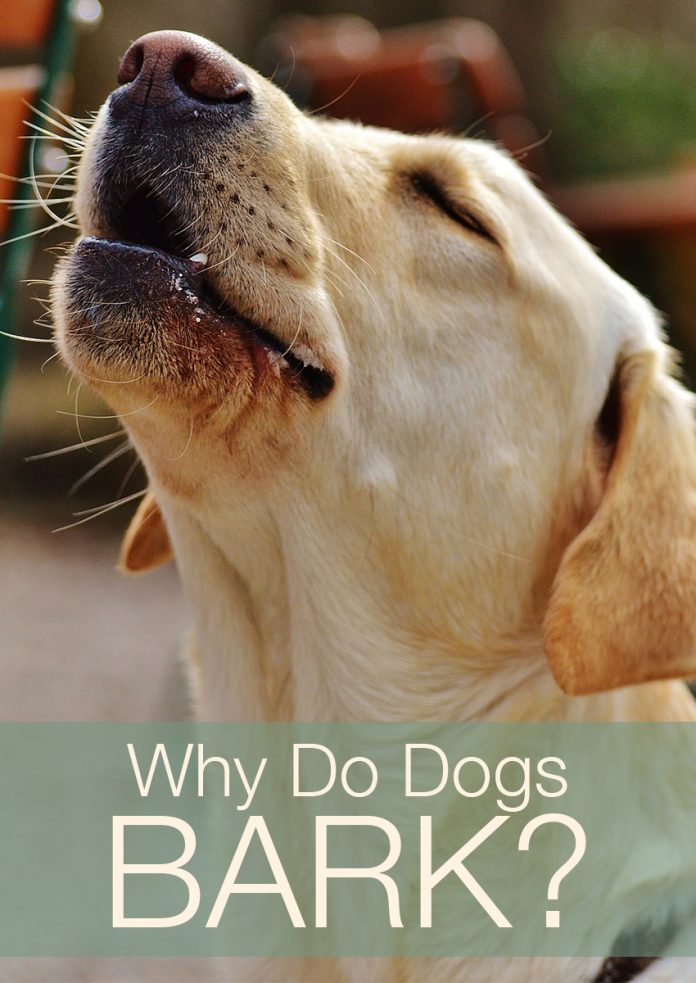 There are a couple of possibilities here.
One is that there is something going on which you are not aware of.
Make a list of the situations or times when your dog appears to bark at 'nothing' and try to find a common cause or causes.
The other possibility is that he simply enjoys the sound of his own voice.
Some dogs find barking self rewarding. They like to hear their own bark, it makes them happy, so they bark some more.
Why does my dog bark so much?
If you still don't know why your dog is barking, then take a look at this video. It gives examples of situations where the dog is barking, and gives an analysis of why it might be.
What do dog barks mean – summary
Barking has evolved in dogs since they became domesticated. Dogs bark to communicate with their human families, and also to communicate with one another.
Barking can be a greeting, an alarm, or a warning. It can also communicate loneliness or excitement and pleasure.
People are able to interpret different types of barks and the emotions behind them. Even in strange dogs
Studies of barking and other vocal communication signals in dogs continues, and we are learning more about our wonderful and complex friends as time goes by
How about you? Is your dog a 'barker' or are they the strong and silent type! What makes your dog bark? Don't forget to tell us in the comment's box below.
References and further reading
Sophia Yin & Brenda McCowan "Barking in domestic dogs: context specificity and individual identification" Animal Behaviour 2004
Sophia Yin. "A new perspective on barking in dogs" Journal of Comparative Psychology 2002
G Sales et al. "Noise in dog kennelling: Is barking a welfare problem for dogs?" Applied Animal Behaviour Science 1997
Peter Pongracz et al. "Barking in family dogs: an ethological approach" The Veterinary Journal 2008
Originally published on The Labrador Site