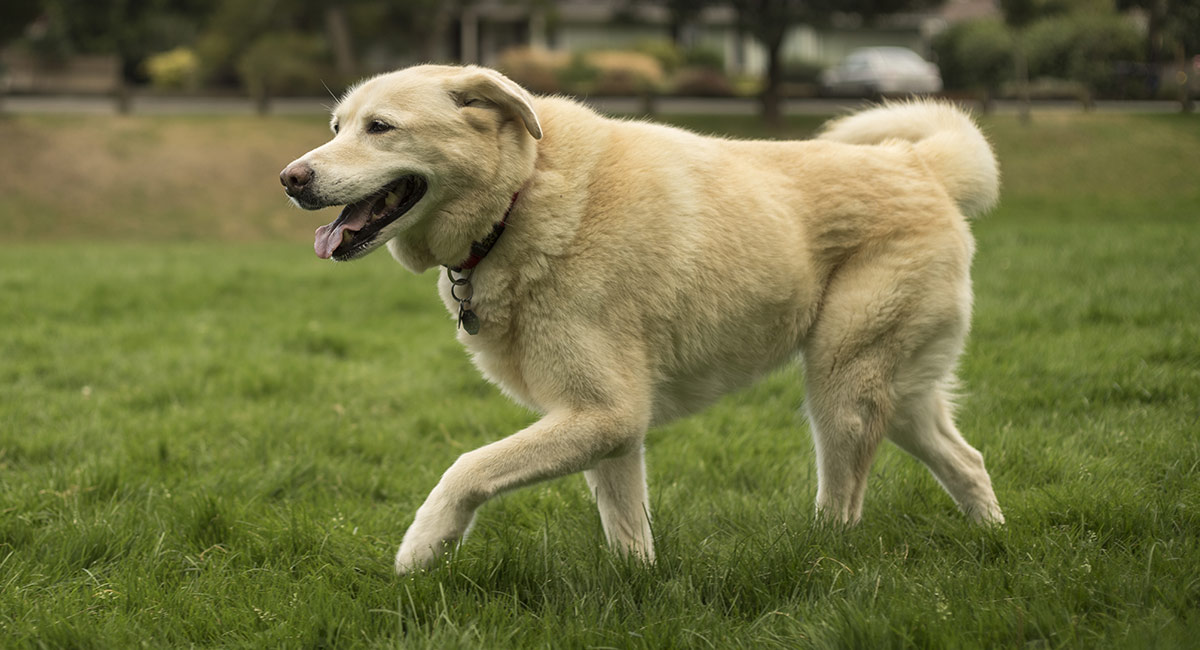 Welcome To Your Complete Guide To The Husky Lab Mix Breed.
From Appearance To Care, Socialization To Training. Is The Husky Lab Mix The Best Dog For You? Let's Find Out!
Two breeds known for their beauty and energy levels, this cocktail of canine DNA may be the perfect mix for a dog lover seeking an activity partner.
The Labrador Husky can trace it's roots to two truly active breeds.
Potentially making this cross the perfect companion for an active owner.
But how does the Husky Lab mix work as a family pet? And how easy is it to keep her needs met?
Let's start by taking a look at the Husky Lab Mix's origins.
Husky Lab mix origins
The roots of the Labrador Retriever Husky mix are of course hinted at in the names of its ancestors.
The Labrador Retriever was developed in the Canadian province of Newfoundland and Labrador.
Although (despite what the name suggests) the earliest Lab ancestors lived on the island of Newfoundland. Not the mainland section of the province, Labrador.
The real ancestor, though, is the St. John's Water Dog. A now extinct breed that was popular in the eighteenth century.
The St. John's Water Dog was imported to England for the purpose of breeding hunting dogs. One of the early Lab breeders, the Earl of Malmesbury, named the breed and the first Labrador retriever club was founded in 1916.
Despite its British and Canadian origins, and the Lab has found much success south of the Canadian border.
Today's Labrador Retriever Husky mix puppies may owe their husky heritage to either the Siberian Husky or the Alaskan Husky.
As the name suggests, the history of the Siberian Husky dates back to Siberia.
Here, these winter-loving working dogs lived alongside the Chukchi people of of the Chukotka Peninsula for thousands of years.
The Siberian Husky was imported to Alaska in the early 1900s for sled-dog sport racing.
Along with other breeds like the Malamute, it contributed genetic material to the line of sled dogs. Now commonly known as the Alaskan Husky.
Unlike their Siberian ancestors, these dogs are not considered to be a purebreed.
Husky Lab puppies are not purebreds either. But the hybrid of the two working dogs may be perfect for an active human who is not interested in kennel club recognition.
Husky Lab Mix full grown
As a mixed breed, the size of a Lab x Husky varies, but most will be considered medium to large dogs.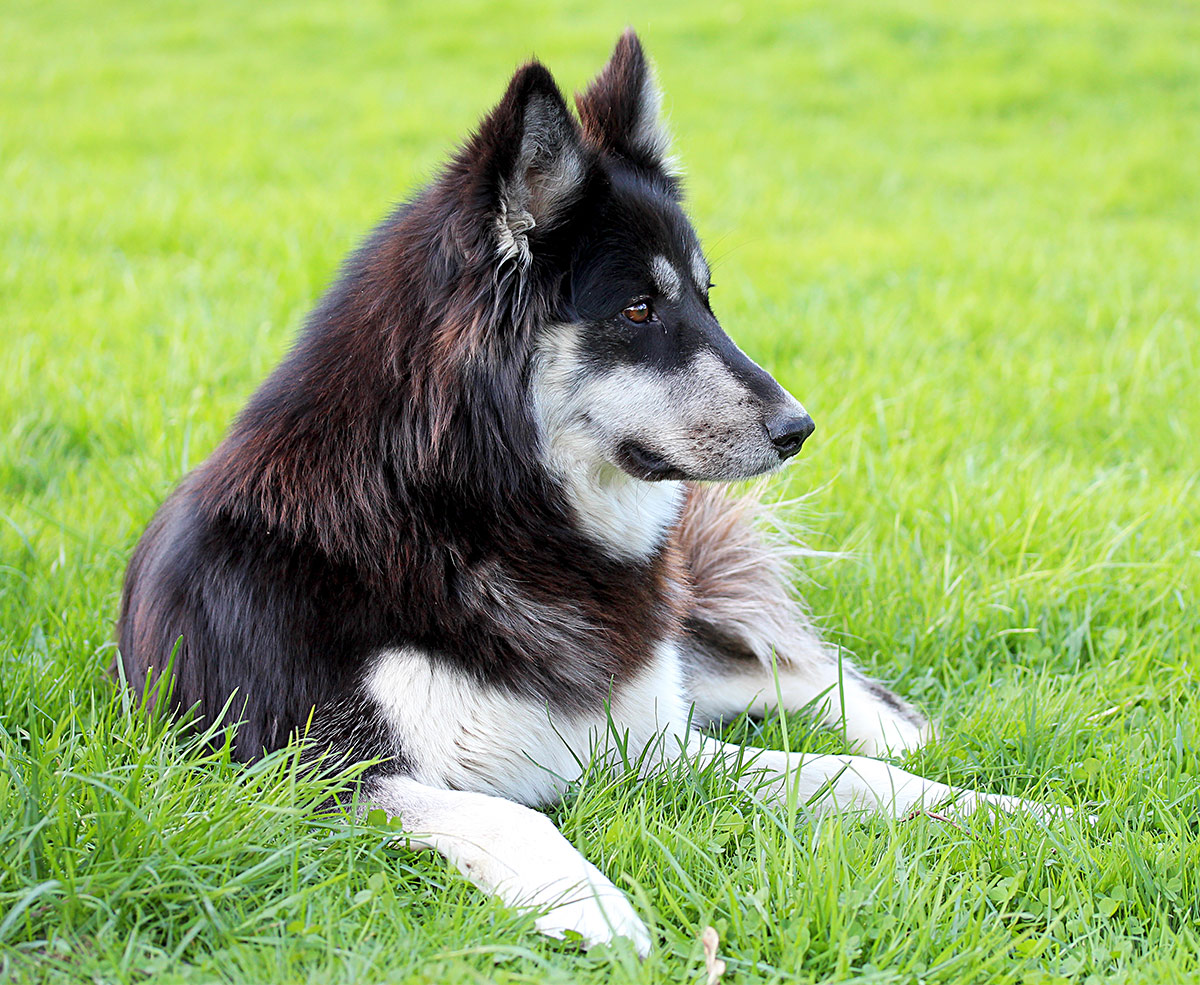 There is no standard size for a Labrador Husky, as much of such a pup's growth depends on the size of its parents and how their genetics interact.
There is a range of different sizes within the Labrador Retriever family alone.
Show Labs are often stockier and heavier than Labs from working lines. The lineage of the Lab side of your Husky Lab puppy will be a factor in how big he or she is as an adult.
A Siberian Husky Lab mix (also known as a Labsky) may be different in size than an Alaskan Husky Lab mix. As the two types of Husky dogs are not always the same size.
Generally though, we can expect Labrador Husky puppies to grow up to be somewhere between 35 and 79 pounds.
They will likely be between 19 and 60 inches tall.
It is a huge range, and it is impossible to determine a hybrid puppy's full grown size.
However, looking at the parents of your Labrador and Husky mix should give you an idea of how big they might grow.
Lab Husky mix temperament
Both Huskies and Labradors are known for being intelligent dogs, and both can make good family pets.
Huskies and Labs are considered to be very high energy dogs. They absolutely need daily exercise and stimulation, even more so than Labs.
While Labs are known for their outgoing personalities, Huskies are known for being more mischievous.
A Husky Lab mix who isn't stimulated physically and mentally may get into trouble.
They need to live in a home where there is someone around for most of the day. Or with someone who is able to bring them to work.
Company is essential to stop them becoming bored and potentially distructive.
Husky Lab mix exercise
Daily exercise is an important part of keeping a Siberian Husky Lab mix happy and physically fit.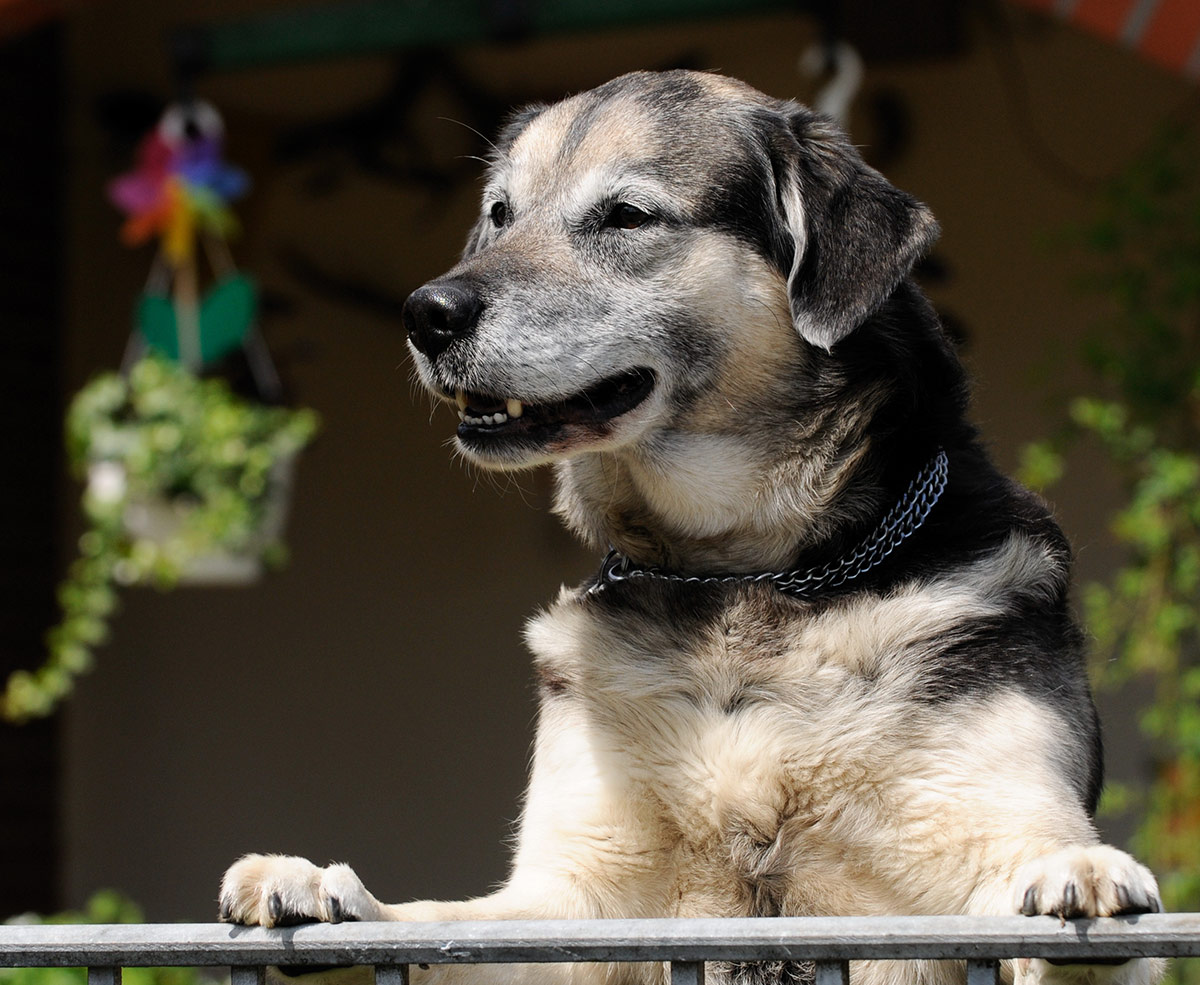 The ancestors of a Lab Husky cross were either pulling sleds or hunting in countryside.
Human companions should keep this in mind when keeping these dogs in more urban environments.
Even in the city, a Husky Lab hybrid can get all the exercise it needs, provided the human companion is up for daily walks and runs.
The Husky side of this dog's heritage means the Huskador hybrid's instincts tell him to run. Until you have fully proofed an excellent recall, a fenced in area or on-leash activity is best for safety's sake.
The Lab side of a Lab Husky cross is always up for a swim or a walk in the woods.
You'll never run out of ways to exercise this intelligent mix.
Lab cross Husky training
Labs are known for being easy to train and Huskies are known for being very intelligent. Mixes of the two breeds are therefore very fun to teach.
The trainability and intelligence of Husky Lab cross breeds is variable. But all of these dogs are best trained with positive reinforcement.
Owners should never take a dominance-based approach to training a Husky Lab mix (as the science shows it's outdated and incorrect)
Engage instead in positive reinforcement based training classes and techniques that help dog and owner connect and communicate in a productive manner.
Labs and Huskies can both be leash pullers if not properly trained, but positive reinforcement can transform these dogs into great walking companions who do not pull on the lead or jump up.
Because both breeds are so intelligent, training is an important part of exercising not just the body, but the brain of a Husky Lab mix.
These dogs need stimulation and challenges, and training provides both.
Allowing them to use their natural talents in a productive way, instead of engaging in unwanted behaviours, like chewing household objects.
Labrador Husky mix shedding
When you welcome a Labrador Retriever Husky mix into your home, you are also welcoming dog hair.
As a hybrid of two double coated breeds, a Lab Husky is likely to shed a lot.
Although Husky crossed with a Labrador can sport a coat of virtually any colour and length, they'll always have an outer coat that is shorter and straighter than the one beneath it, that provides a layer of insulation and protection.
Regardless of how long your hybrid's coat is, regular grooming can help prevent your home from becoming dusted with dog hair.
Daily brushing is great for the coat, and visits to the groomer can help owners keep shedding under control.
But as a double coated breed, Husky x Labradors should never be shaved.
Instead, owners may supplement brushing with the occasional use of a deshedding tool, which will take help your dog shed during the grooming session, rather than all over the house.
Lab and Husky mix health
Siberian Husky Lab mixes are susceptible to the health problems of either breed.
Common health issues for Labrador Retrievers include joint disorders, obesity and cancer, while Huskies are particularly prone to hip dysplasia and eye disease and arthritis.
Because joint issues in both breeds are exacerbated by obesity, owners of Husky Lab mixes should take care to ensure they are not overfed and are adequately exercised.
As a study published in the Journal of the American Veterinary Medical Association notes, losing weight can significantly help with canine hip problems.
Eye issues in Huskies have been linked to gene defects, but genetic testing of potential breeding dogs can prevent inherited blindness from being passed down to Siberian Husky Lab mix puppies.
Husky cross Labrador Life Expectancy
The typical lifespan of a Siberian Husky is between 12 to 15 years, while Labs generally live 12.5 years.
The life span of a hybrid Husky x Labrador is variable depending on lineage and health, but will most likely be around 13 years.
Husky Lab mix puppies
Because Labrador Retrievers and Huskies are both popular breeds, Husky x Lab puppies are commonly found in rescues and shelters, and through breeders.
Whether they were bred accidentally or on purpose, these hybrid pups are adorable and fluffy, thanks to their double coated parents.
Puppies with mixed Lab and Husky heritage can vary in appearance. Some may look more like their sled-pulling side, sporting the Siberian-style ears, while others may have more of the Lab look.
Husky Retriever mixes found in rescues may have attributes of additional breeds if one of the parents was not a full Husky or Lab.
Husky Lab mix breeders
Those seeking a pup that is truly fifty percent pure Husky and fifty percent pure Lab may seek a pup through a breeder.
Because the Siberian Husky Labrador Retriever mix is not a purebred, consumers can't turn to Kennel Clubs for a referral.
This means it is even more important for consumers to do their due diligence when purchasing a dog.
Breeders of Husky x Lab puppies should be able to provide veterinary records for each parent, and buyers will want to pay attention to the hip and eye scores noted by the veterinarian.
Prospective puppy buyers should be able to visit the puppy at the breeding facility and meet both parents.
The personality of the dogs will likely be passed down to the puppies, so it's extremely important to meet the breeding dogs.
Is a Husky x Labrador right for me?
If you're asking yourself if you should get a Husky Lab cross, you should ask yourself one question: "Am I active enough for a Labrador and Husky mix?"
Consistent activity and training is necessary for this mixed breed to have a good quality of life.
If you envision yourself spending plenty of time engaged in outdoor activities with your dog (and don't mind a bit of shedding) a Husky Lab hybrid may be the pup for you.
Resources