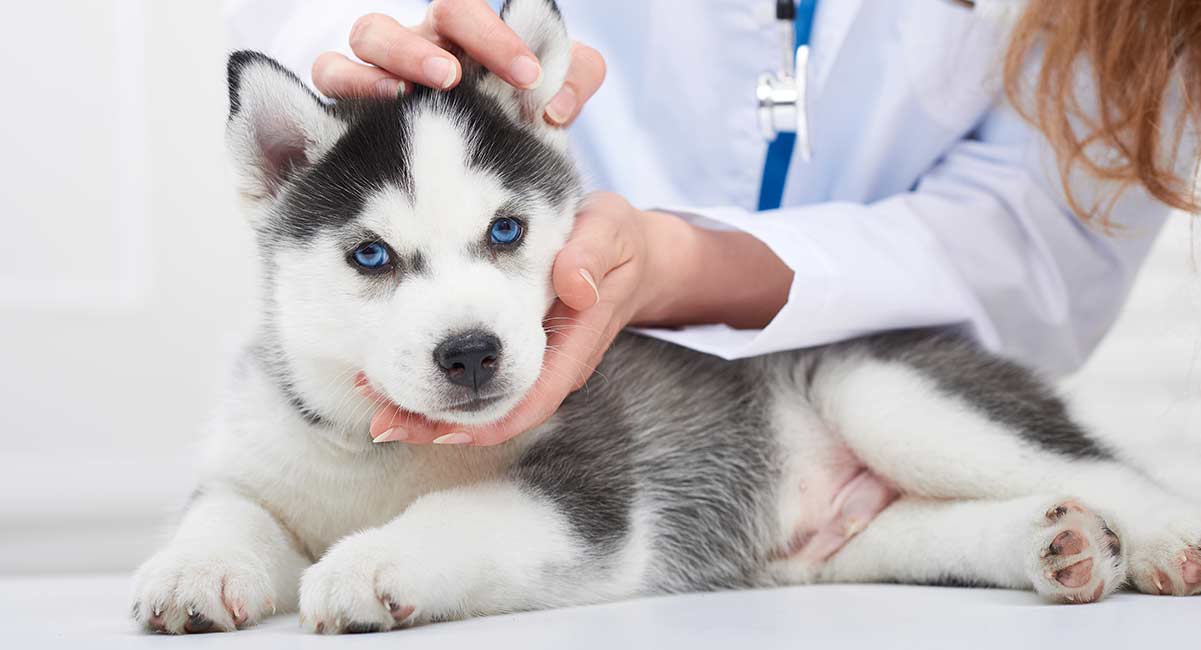 This guide to dog insurance will help you to make the important decisions when it comes to insuring your pet.
We have included helpful insurance cost charts, and lots of advice and tips for insuring your puppy.
We will also look at what the best insurance cover will be for your dog, and give you information on the staggeringly different costs you will come across depending upon your puppy's breed.
Is Pet Insurance Worth it?
In general, yes.
Pet insurance is definitely worth having for the vast majority of families, unless they are extremely wealthy.
Dogs can require a lot of veterinary treatment throughout their lives, and this can quickly add up to big bucks.
Having a great insurance policy ensures that if the worst should happen, you are able to give your dog the care that they need.
If you have decided to bring home a puppy from a breed with structural health issues insurance is essential.
Over the course of their lifetime they will potentially need a lot of procedures in order to live as comfortable a life as possible.
Flat-faced breeds such as Pugs, French Bulldogs and Bulldogs suffer from a condition known as brachycephaly.
This can have a huge impact upon their general day to day comfort, causing issues with overheating and breathing.
They frequently require surgery to fix functional issues such as stenotic nares (where the nostrils are too narrow), and far more serious invasive surgeries too.
Dogs with disproportionate body to leg lengths can have devastating back problems, requiring multiple veterinary visits, pain medication and surgeries.
Unfortunately, the likelihood of their needing veterinary help and the cost of that help means that insuring some breeds of dog is incredibly expensive. Some insurers won't even give full cover to breeds with serious structural problems, as it is not worth their while.
You can find out more about this in the cost section below.
Best Pet Insurance For Dogs
The best pet insurance for dogs is one which is the most affordable option for the great amount of cover.
When you are researching puppy insurance then you need to look very carefully at the small print.
The best pet insurance will have the following components
Lifetime policy
Cover for all accidents, injuries and illnesses
Continued cover of existing illnesses
Maximum annual limit of at least £7,000 / $10,000, resetting at renewal
Routine and preventative veterinary care such as vaccinations, flea treatment or worming are rarely covered by insurance policies.
However, if you want these things to be pre-paid, then many vets now offer an annual reduced fee for this to be arranged separately through their surgery.
Dog Insurance Cost
Dog insurance cost depends upon a lot of factors. The type of cover is one of these. The longer the cover lasts, the more issues it agrees to support, then the more the insurance will cost.
Accident only will be the cheapest.
This will only help you to pay for injuries your dog incurs at home, in the car or on outings.
It will not help with disease or illness, or cover any ongoing costs that might come up in the months following the accident after the policy has renewed.
The middle of the range options include time limited policies, usually lasting a year, and maximum benefit policies, which will cover any accident or illness indefinitely, but only up to a fixed cost point.
Although it might be tempting to go with a cheap pet insurance cover, this could prove disappointing if your dog falls ill with a disease which requires ongoing treatment.
As the cover will expire after a certain amount of money has been paid out, or time has passed. Insurance companies will not renew a policy to continue paying for a condition unless this has been stipulated in the original contract.
Therefore, if you are going to pay for insurance it makes sense to go with the best option you can afford, which will hopefully be lifetime cover.
Insuring Different Dog Breeds
The above chart was made using breed specific data that I compiled, looking at whether their was a real difference between insuring various types of dog. Being based in the UK, the figures shown below are in Pounds Stirling. However, the differences between breeds will very likely be similar wherever in the world you are.
A few months ago I logged on to a popular price comparison website, and created a fake profile for a pretend new puppy, called Betty. To obtain quotes I said Betty was 2 months old, female, microchipped and cost me £500.
I repeated these factors a number of times, changing just one variable – the breed. This allowed us to see how much various insurance companies were charging for the exact same levels of cover.
Each policy shown below gives lifetime cover, with at least £7,000 annual limit that resets upon renewal. All policies below give continued cover of existing illness.
You can find a summary table here showing the data that I gathered, which was then used to produce the more concise table shown previously: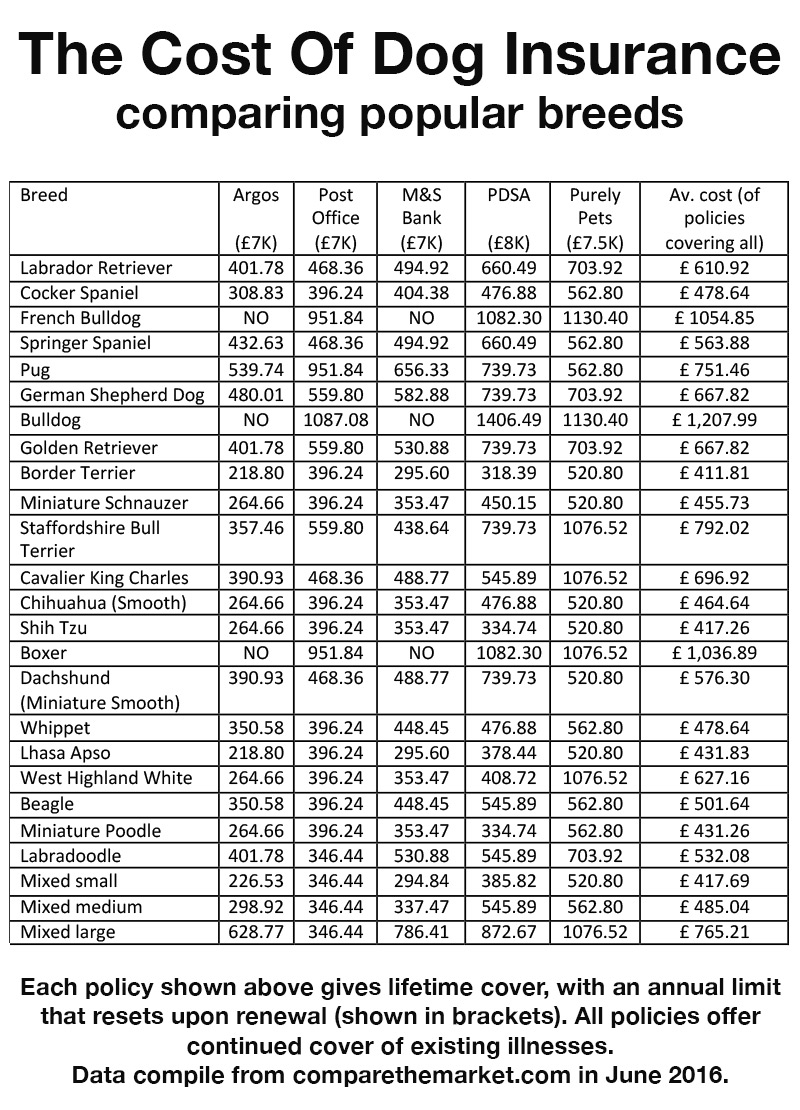 What this table demonstrates is a massive difference in cost between insuring different types of dogs. And there are a few reasons for this.
Insurance companies charge their customers based upon their own experiences of paying out to previous customers. This means that if a certain group of dogs cost them more than others, this will be reflected in the premiums.
So why are some breeds so much more expensive than others? The primary reason is probably to do with health, but there are some anomalies in this regard when you look at the insurance stats.
Using what we know about some of the breeds shown above we can speculate on this. Let's look at some examples by breed below.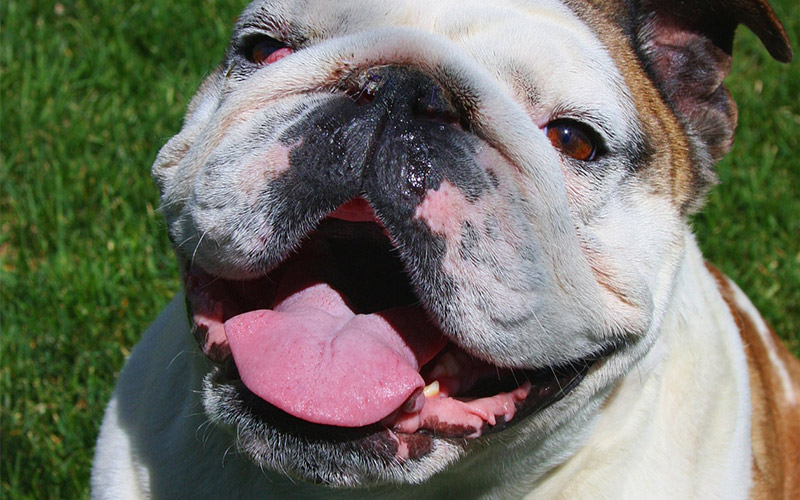 Bulldog Insurance
Bulldogs are the most expensive breed of dog to insure, and by quite a large margin when compared to the average dog.
Bulldog lifespan is a very sad 6 years on average, but perhaps even more upsettingly is that up until this point for many Bulldogs their lives are no picnic either.
They often require frequent trips to the vets for a variety of structural reasons. From issues with their skin folds becoming infected, to their dental overcrowding, back problems as a result of screw tails,  and a host of issues related to being severely brachycephalic. Including issues related to breathing, over heating, and some very nasty eye problems.
They can also suffering from painful bladder stones, although there is a DNA test that your puppy's parents should have been given to prevent this being passed on.
Bulldog costs of care can be so high that two of the insurance companies we sampled would not offer them the highest level of cover.
If you have a Bulldog puppy, ensure that their insurance is a full lifetime policy, including accidents, injuries, illness, disease and dental. It will be expensive, but in all likelihood this is because you are probably going to need to use it.
If you are thinking of bringing home a puppy, you can find out more about Bulldogs here.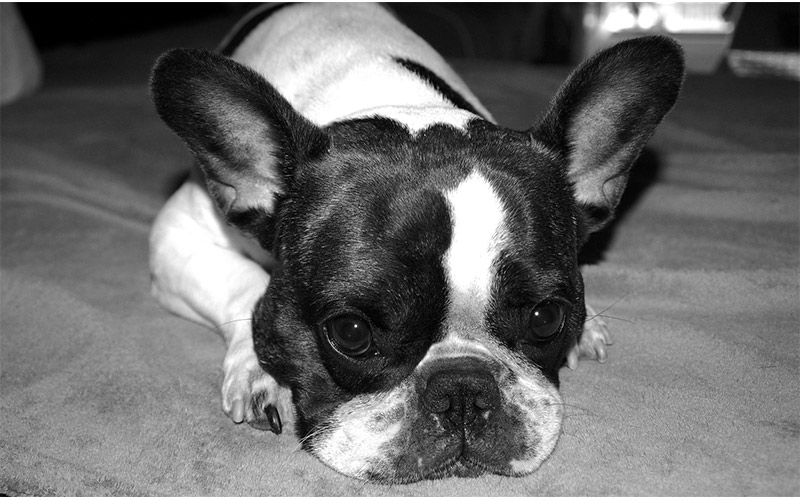 French Bulldog Insurance
French Bulldogs are the second most expensive breed to insure. Although in some ways their structure is slightly less exaggerated than their Bulldog friends, they do similarly have serious medical issues to contend with over the course of their lifetimes.
French Bulldogs are severely brachycephalic. From infected skin folds to dental problems due to overcrowding, to serious breathing problems, eye problems and issues with overheating due to their very flat faces and the painful results of screw tails and hemivertebrae. Their closed nostrils can be surgically enlarged to help their breathing too.
French Bulldog costs of care can be so high that two of the insurance companies we sampled would not offer them the highest level of cover.
You will likely see a lot of your local vet if you choose to bring home a Frenchie puppy, even if you just want to provide him with a far nicer quality of life than the one he would have without intervention.
If you are looking for a new puppy to join your family, you can find out more about French Bulldogs here.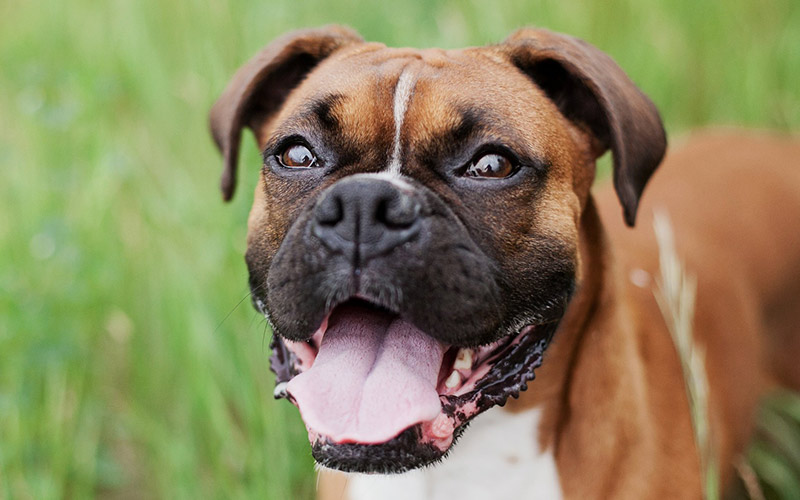 Boxer Insurance
You might be surprised to see how expensive it is to insure a Boxer. After all, they look like pretty healthy dogs to the casual observer.
Unfortunately, Boxers have some serious and upsetting health problems to potentially contend with.
Although they don't have entirely flat faces like some breeds, they are brachycephalic dogs. This means that this large energetic puppy has lots of enthusiasm, and a body that can't necessarily quite keep up. They can suffer from problems with overheating and breathing difficulties.
Boxers have a higher than average chance of developing degenerative myelopathy, a nasty progressive neurological disorder. There is also a serious risk in show bred lines of suffering from Juvenile Kidney Disease. In addition to this, cancer rates are very high, with it thought to account for around 40% of their deaths each year.
Boxers also suffer from hip dysplasia, although chances of this can be reduced by finding a pup with parents whose hip scores are low.
Boxer costs of care can be so high that two of the insurance companies we sampled would not offer them the highest level of cover.
If you are considering buying a Boxer puppy, you can find out more about Boxers in this article.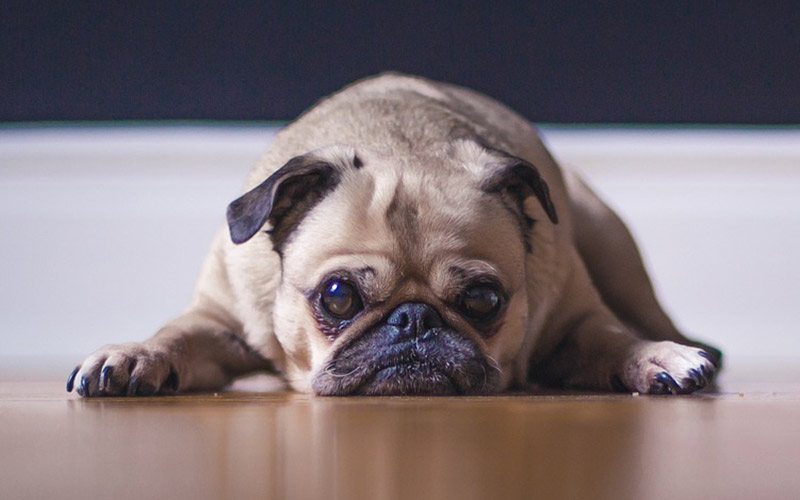 Pug Insurance
Pugs suffer from similar medical problems to their French Bulldog friends.
The average Pug is very likely to have dental issues and overheat due to his lack of muzzle. He will probably have some degree of breathing problems too. Those noises Pugs are so frequently filmed making are not cute, they are indicative of his inability to breathe properly. As is his tendency to fall asleep sitting up, or jerk awake suddenly – both a result of airway problems.
Their protruding eyes are easily damaged, and horrendously can sometimes come out of the sockets completely.
They also can have issues associated with screw tails and hemivertibrae, from serious problems to those associated with not being able to keep himself properly clean.
There is also a fairly long list of other health problems Pugs can suffer from as a breed, including encephalitis, hip dysplasia, aortic stenosis, Leg-Perthes disease, atrial septal defects and alopecia.
There is also a big problem with obesity in Pugs, when well meaning owners believe that they are supposed to be fat and therefore do not limit their food as they should. They exacerbates the issues they have from their structure, and increases the amount of time they need to spend down at the veterinary surgery as well.
Insuring your Pug will be costly, but again it will probably pay for itself.
If you are thinking of bringing a Pug puppy into your family, you can find out more about Pugs here.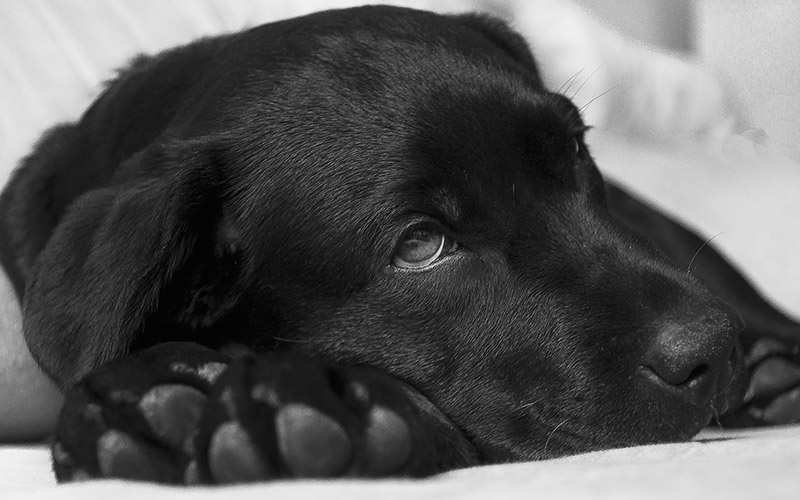 Lab Insurance
Although Labs are generally very healthy dogs, Lab insurance cost is likely fairly high up the list due to the nature of the problems they can have. Namely to do with their joints and ligaments.
Hip Dysplasia, Elbow Dysplasia and Cruciate Ligament Disease are fairly frequent, and can all be helped with a range of expensive medications and surgical options.
You can hugely reduce the possibility of having to pay for these joint and ligament issues by being careful when picking your puppy. Choose one whose parents have low hip scores, elbow scores of 0 and who are over three years of age with no family history of cruciate ligament problems.
You can find out loads more about Labradors at the Labrador Site here.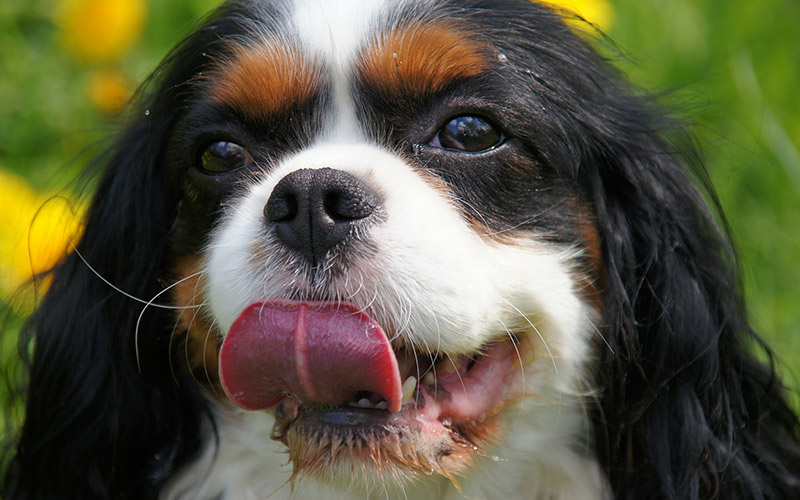 Cavalier King Charles Spaniel Insurance
Cavalier King Charles Spaniel insurance costs are lower than I would have expected, given the myriad of problems that this breed has to deal with.
They have two big problem areas including mitral valve disease and syringomyelia.
However, you could deduce that this is because the very sad conclusion to one of the top issues, mitral heart valve disease, is that the dog passes away due to heart failure. Whilst this sadly reduces the average lifespan of the breed and causes untold upset, it does not really raise the costs to the insurers as much. Therefore the premiums are relatively low in comparison to the general health of the breed.
You can find out more about Cavalier King Charles Spaniels here.
Mixed Breed Dog Insurance
You can see from the charts above that there is a vast difference in insurance premiums for mixed breed dogs, purely depending upon their size.
We know that smaller dog breeds live longer than large dogs, and this fact is reflected in the costs. With small and medium breeds costing considerably less to insure each year than larger mixed breeds.
What To Do If You Can't Afford Pet Insurance
If you cannot afford pet insurance premiums, then the chances are that you can't afford to pay a veterinarian if your dog becomes sick.
If you are reading this before buying your puppy, then you need to think seriously about whether now is the right time to get a dog and work out what you would do if the worst should happen.
Work out a way to budget for insurance payments, or how much you could afford to put into a separate savings account each month instead.
Even a few pounds a month could make a difference to your dog's quality of life years down the line.
If you already have a pet who is in need of veterinary care, but could not afford to insure him, there are some options out there to help you.
The Big Hearts Fund
Based in the USA, the Big Hearts Fund supports owners of animals suffering from heart disease.
Their website is very informative and helpful, and well worth a visit if your dog has cardiac problems or if you are struggling financially.
The Blue Cross
The Blue Cross are a UK based charity, whose four animal hospitals rely upon donations to run. They offer help to people in London and Grimsby areas, that meet their eligibility requirements in terms of their financial situation. To see if the Blue Cross could help your dog, visit their website here.
The Brown Dog Foundation
The Brown Dog Foundation is a US based charity, giving help and support to families who cannot pay for veterinary treatment. To see if you meet their funding requirements, you can begin the process with an online survey on their website here. 
The Magic Bullet Fund
Based in the USA, the Magic Bullet Fund provides help to owners of pets who cannot afford their cancer treatment. You can visit the Magic Bullet Fund website here for advice. 
The PDSA
The People's Dispensary for Sick Animals (PDSA) is the UK's leading veterinary charity. Giving treatment to pets whose owners are in financial need. They have strict criteria for qualification for their help, including your location and whether you claim benefits. To see if you are eligible, you can visit their website here.