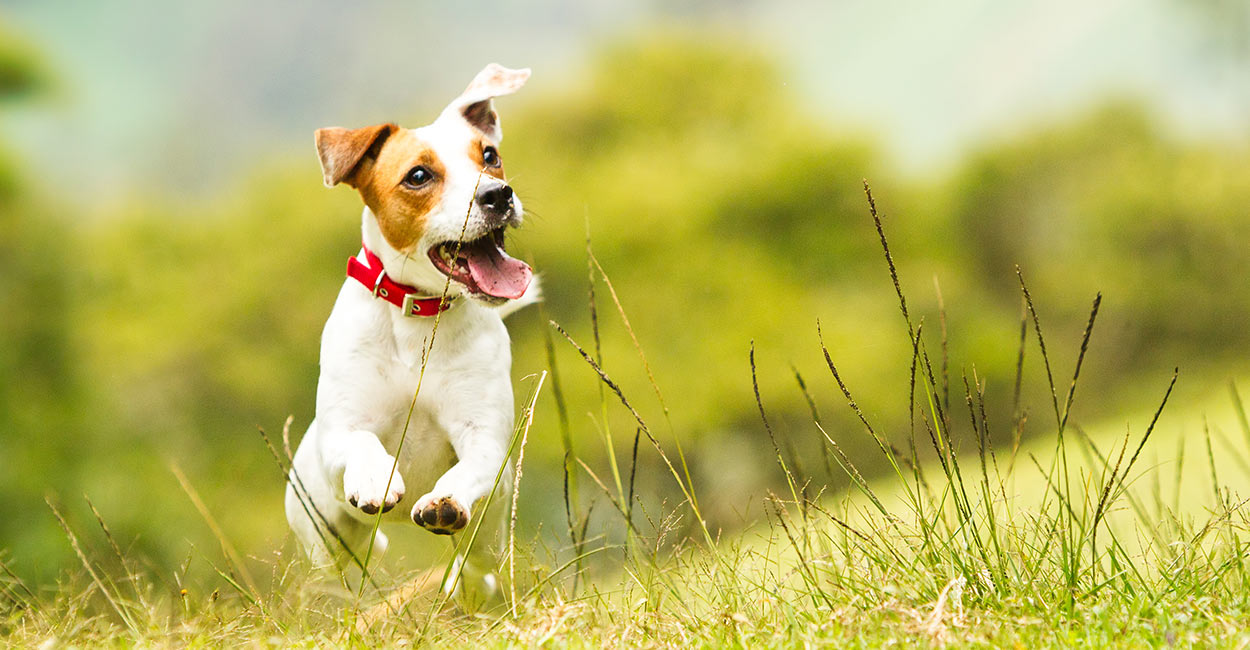 What is the best dog ball thrower on the market right now?
Let's find out!
Check out our reviews of the various types and brands available.
Helping you choose the right dog ball thrower most suitable for your beloved pooch.
Why is it that so many dogs love a game of fetch with their owners?
For thousands of years, dogs were specially bred and trained to hunt and retrieve food for humans.
Because of this instinct to chase and retrieve, dogs enjoy nothing more than running after and fetching a ball.
After allm it allows them to do what comes naturally.
As well as stimulating a dog mentally, playing a game of fetch is also a great form of exercise.
Even helping to prevent canine obesity, which is now the fastest growing health issue in pets worldwide.
Dogs Playing Fetch
During a game of fetch, the brain releases a measure of the "happy" hormone serotonin.
Encouraging a dog to play more and making him feel good about himself.
You might be looking for a fun alternative to your dog's fetch games or searching for something he can play with independently.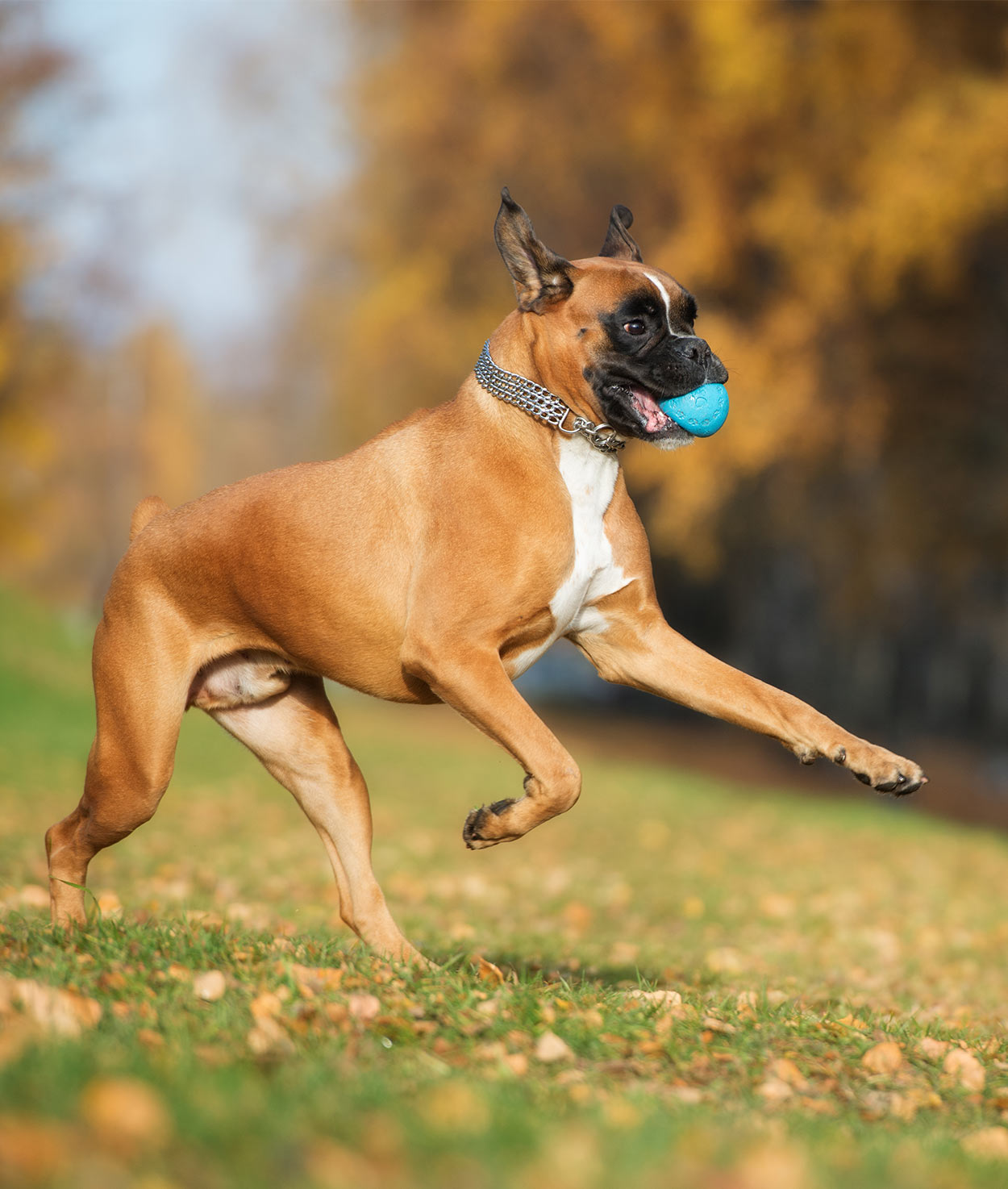 A dog ball thrower can make a game of fetch even more fun for your furry friend, with so many different varieties available in today's market.
In this article, we have considered all the options out there and selected the best dog ball throwers available right now.
So, whatever your requirements, we help you choose the right dog ball thrower for both you and your pup.
Why use a dog ball thrower?
If your dog loves playing fetch, chances are, after a while, your throwing arm starts to get tired, whereas your pup just wants to keep going!
Or maybe, with today's busy lifestyles, you just don't have the time or energy to play a game of fetch with your beloved pooch.
Wouldn't you just love a dog toy that throws ball after ball for your furry friend, so you don't have to?
Dog ball throwers are becoming extremely popular as caring, but busy dog owners try to ensure their pets have plenty of playtime fun and exercise.
There are both hand-held and automatic dog ball throwers available.
Hand-held throwers enable the owner to load and fire the ball long and fast without tiring their throwing arm.
Automatic dog ball throwers are a dog's (and owner's!) dream as they allow non-stop ball throwing used either with the owner or independently.
Your pet can be trained to drop the ball into a funnel or bucket which is then automatically launched for him to fetch and retrieve before loading it back into the machine for another launch.
Let's find out, which is the best dog ball thrower most suitable for you and your dog.
What is the best dog ball thrower?
When buying a dog ball thrower, you need to consider a few things.
Your budget, the size of your dog, the space you have available.
Not to mention whether you want to be actively involved or let your pet play independently.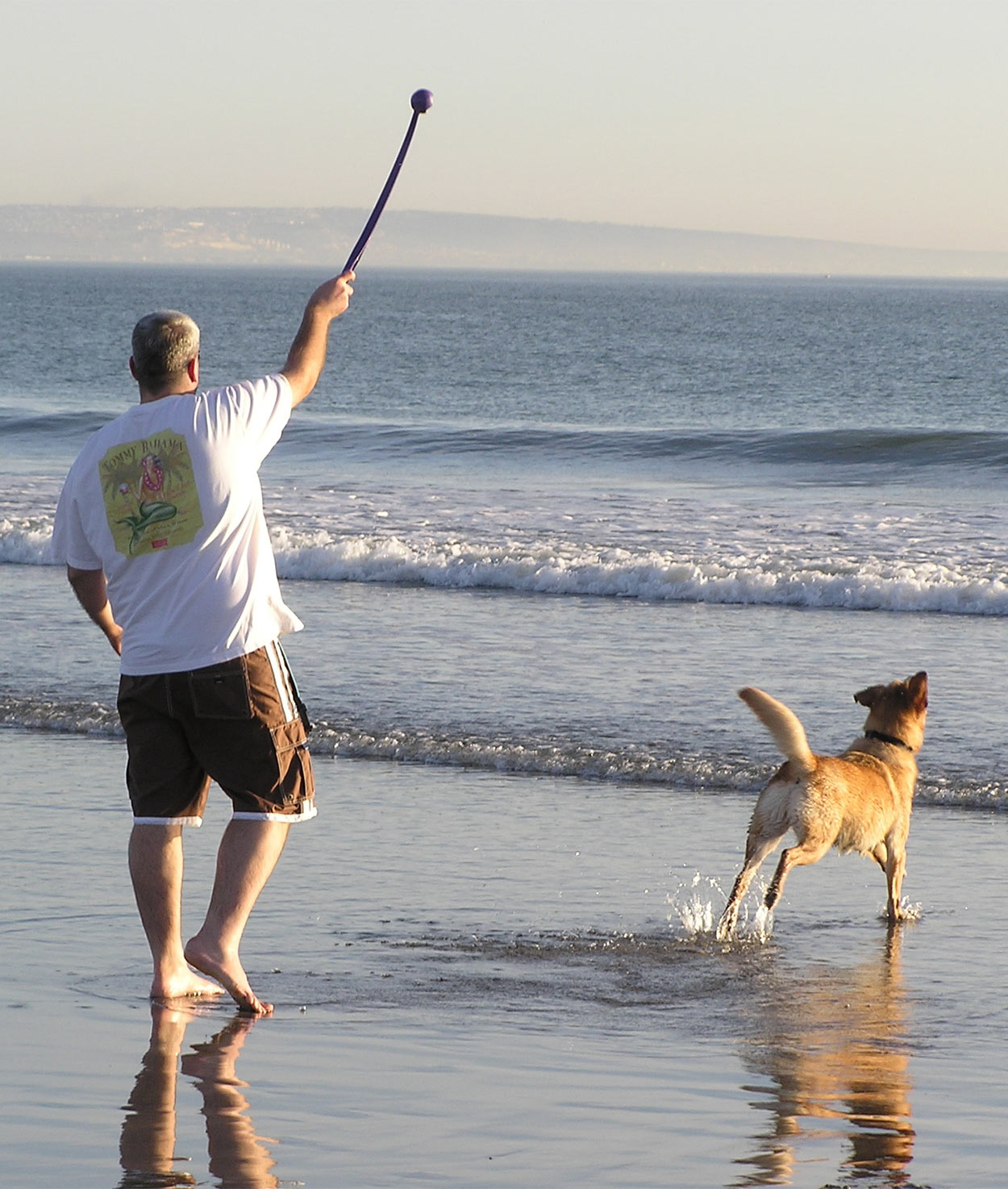 There are many different dog ball throwers available but choosing the right one can be quite daunting for pet parents.
Before you purchase a dog ball thrower, it is essential to know what features the various devices have.
This will allow you to choose the one most suitable for the type of dog you own, your current lifestyle and budget.
If you want to be actively involved in playing with your dog and you don't want to spend too much money, then a hand-held ball thrower is a perfect choice.
The advantages of hand-held throwers are that most have features to pick up the ball and load it into the device.
So you don't have to handle a wet and slobbery ball, plus your throwing arm won't be so tired!
However, the benefits of an automatic dog ball thrower are numerous.
Tennis ball thrower for dogs
You may want to play with your dog and load the ball thrower yourself or train your dog to place the ball into the machine on his own.
If this is the case, a device that can be used as a self-throwing dog ball machine is ideal.
However, you should bear in mind the noise level of an automatic dog ball thrower, as a noisy one might startle a nervous dog.
A quieter machine maybe preferable.
Let's start off by taking a look at some of the best dog ball thrower options for tennis balls.
Nerf Dog Tennis Ball Blaster
Nerf are better known for producing children's toys, but since 2013 have designed toys specifically for dogs.
The Nerf Dog Tennis Ball Blaster is a hand-held, sturdy thrower which is reliable and easy to use.
It comes complete with four, high quality, standard sized tennis ball in various colors, which can be blasted as far as 50 feet into the air!
The distance is adjustable so can be used either indoors or outdoors and has a pickup feature that is hands-free.
Chuckit! Classic Launcher
A best seller on Amazon, this classic hand-held tennis ball thrower comes in a variety of colors, throwing ranges and sizes.
The Chuckit Classic Launcher comes complete with one tennis ball.

It has an ergonomic, rubber grip handle, allowing its user to throw up to three times farther more comfortably.
It also features a hands-free pickup of the ball.
This manual dog ball thrower takes a while to get used to, but once mastered is perfect for using outdoors, throwing balls long distances, so tiring a dog out quickly.
Automatic dog ball throwers
Since the invention of automatic dog ball throwers, more and more different types are continuously emerging.
So, how do we know what is the ideal automatic dog ball thrower for our furry friends?
What features are required?
With any popular product, cheap copies always appear on the market, and dog throwers are no exception.
Cheaper versions often use inferior materials meaning constant breakdowns or other problems.
These products are best avoided.
An automatic dog ball thrower that is of good quality can be quite expensive but is longer lasting, giving full value for your money.
The many benefits are worth the price allowing your dog hours of entertainment, exercise and mental stimulation.
You can also either choose to play with your dog or train him to use the machine independently without supervision.
Here we guide you as to what points you should consider when choosing an automatic dog ball thrower, helping you decide what features are best for you and your dog.
Using your dog's size to pick the best dog ball thrower for him
Your dog's size is an essential factor when you purchase an automatic dog ball thrower, due mainly to the size of the balls used with the machine.
Many devices have mini-sized tennis balls, 1.5 inches in diameter, which are ideal for small to medium-sized dogs, but which pose a choking hazard for larger dogs.
Therefore, for a larger dog, the best dog ball thrower is one that uses standard sized tennis balls, measuring roughly 2.5 inches in diameter.
Choosing the best dog ball thrower for the space
The space you have available is just as important as the size of your dog.
An automatic dog ball thrower machine that has adjustable distances is a valuable feature, thus ideal for either indoor or outdoor use.
Many dog ball throwing machines have a choice of battery operated, AC power or both so look out for these features.
Ball thrower for small dogs
So your dog is a small or miniature breed?
They can still have lots of fun playing fetch!
Let's check out one of the best dog ball thrower choices for little dogs.
iFetch Interactive Ball Launcher
When searching for a small dog toy automatic ball thrower, look no further than the iFetch Interactive Ball Launcher machine.

This iFetch model is designed for small dogs using 1.5 inched mini tennis balls.
It allows you to adjust the throwing distance.
Balls are launched as far as 10, 20 or 30 feet.
This makes it perfect for indoors or outdoors.
It can be used with either an AC adapter, included, or 6 C batteries.
The top of the device, where the ball is placed inside, is tilted to encourage your dog to stand behind the dog ball thrower when the ball is launched.
This vital feature allows your pet to safely use this automatic dog ball thrower machine independently.
Leaving you to get on with your chores!
The iFetch Interactive Ball Launcher is compact and easy to store.
It has a power saving auto-off mode which switches off after each launch, automatically switching back on when a new ball enters the funnel.
Its large funnel makes it easy for dogs to launch the ball themselves.
The iFetch website has a handy training video showing you how to introduce and teach your dog to use the dog ball throwing machine using positive reinforcement.
The only downside is that this device can be a little noisy, so maybe a problem for nervous dogs.
Automatic ball thrower for large dogs
But what about the larger dog breeds?
From Labradors to Great Danes, bigger dogs love big dog ball throwers!
Here is a nice choice for large to giant sized breeds.
iFetch Too
The iFetch Too is an award-winning automatic dog ball thrower designed for larger dogs.
When the iFetch Interactive Ball Launcher first appeared, the mini tennis balls were considered too much of a choking hazard for larger dogs.
This meant they had to miss out on all the fun!
However, iFetch fixed this problem, designing a machine which used a more suitable self-throwing ball for dogs of a larger breed.
Now big dogs too can now play, hence the name!
The ball is the size of a standard tennis ball, measuring 2.5 inches in diameter.
The iFtech Too weighs 12 pounds compared to the original iFetch dog ball thrower which weighs just 3 pounds.
Making it three times bigger to accommodate the larger sized balls.
The iFetch Too also makes less noise than the smaller version, especially when using just the first two distance settings.
Throwing distances can be adjusted to either 10, 25 or 40 feet.
Plus it includes a random setting to keep your dog on the ball so to speak!
The range can also be locked at 10 feet when playing indoors as an added safety feature.
The ball launches immediately to prevent hitting your dog if he is standing close by.
But you should teach him to stand behind the device, when he loads the ball into the machine.
This tennis ball throwing machine for dogs uses a built-in rechargeable battery.
So no need to use an extension lead, meaning you can take it anywhere for your dog to enjoy!
The iFetch Too is not cheap but is extremely strong and hard-wearing allowing your dog plenty of exciting games of fetch.
Best dog ball thrower
Deciding on the best dog ball thrower for your pet is very much a personal preference.
So you should consider your budget and how much you want to participate in your dog's fetch games.
Hand-held dog ball throwers are relatively inexpensive and are ideal for those who want to bond with their dogs and be actively involved.
However, although your throwing arm may not ache so much, using a hand-held dog ball thrower still requires some effort, which can become tiresome with a highly energetic dog.
Automatic dog ball throwers offer your dog continuous play.
They are perfect for busy owners or those that are elderly or who have trouble throwing.
References