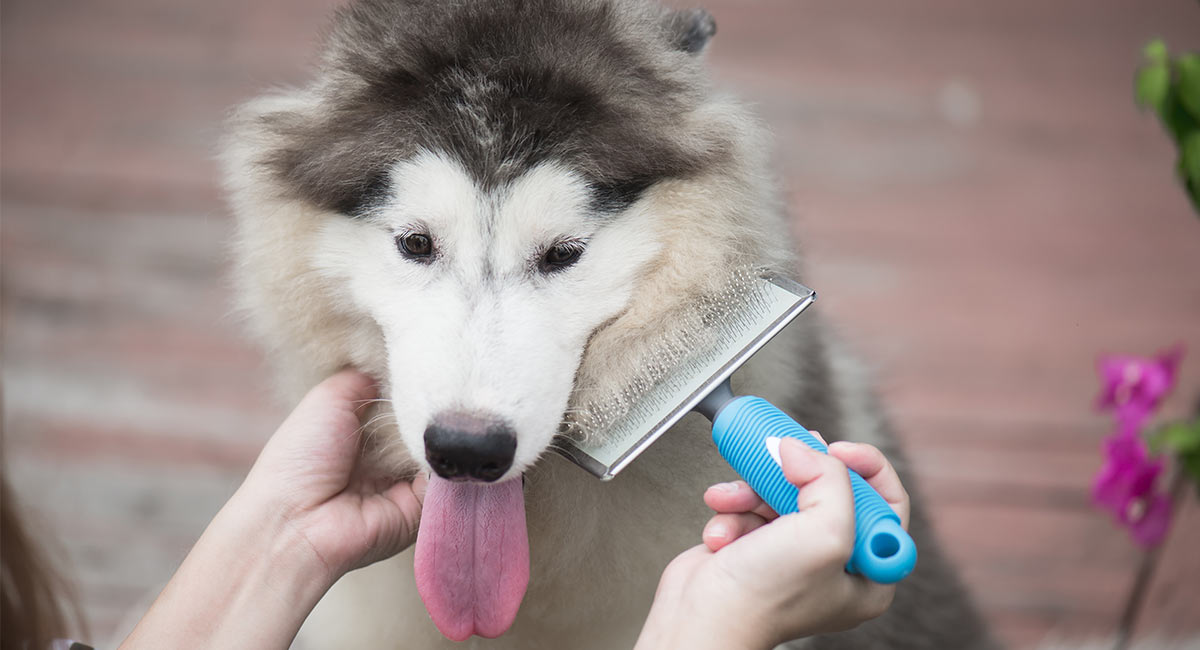 Our Beloved Huskies Have Amazing Coats, And They Do Need Some TLC. But Never Fear! The Best Brush For Siberian Husky Fur Is Out There.
In This Siberian Husky Grooming Guide We Take A Look At The Top Options, And The Best Way To Use Them.
Siberian Huskies are special dogs with amazing coats.
Thick layers that are able to withstand the harshest weather conditions.
Their coats are unique to that of many other dogs in that they have two sets rather than one.
This is known as a double coat, and consists of a top coat and an undercoat.
These thick, lustrous coats protect the husky from the elements and protect their skin.
The coat keeps them warm in winter and cool in summer. In the summer, they shed their undercoats.
This soft, thick layer of fur is protective and wiry in order to keep warm air close to the Husky's body.
In summer, this layer helps the skin to breathe.
Siberian Husky Shedding
The Husky sheds its coat once in spring and once in fall to a greater degree. But they also shed a bit all year round.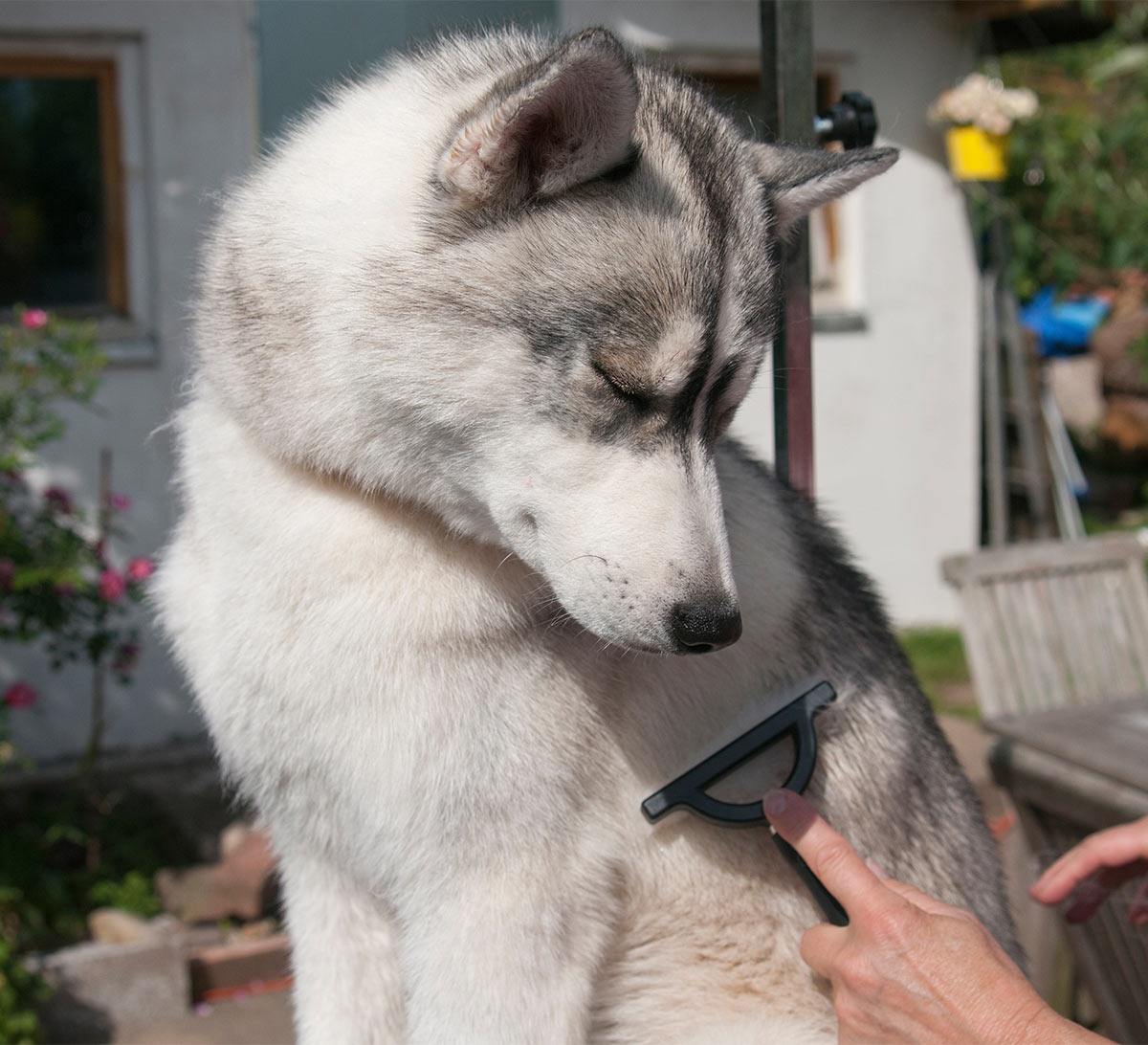 The hair tends to fall out in clumps, and it is important to use a special husky brush to groom your dog's coat during these times.
The coat sheds for almost three weeks and can get messy due to the amount of hair shedding!
But fret not, once they're done, their coat is thinner in summer, and very full in winter.
Their top coat consists of thick, long hair that protects the coat and skin, is water repellent and blocks UV rays, which are harmful to any person or animal.
Siberian Husky Coat Types
Some huskies have a different kind of coat, called a wooly coat.
This coat needs special attention because the hair is longer than usual and takes longer to dry, which can harm them in cold conditions.
Huskies are very clean dogs who do not need as much Siberian Husky grooming as regular dogs due to their cleaning habits.
They do not need as much grooming, but when they are groomed, they should be brushed with special brushes to protect their hair.
Grooming should be done to remove the dead hair and keep the coat shiny and clean. One should never, ever shave a husky, as their coat protects them from the sun's harmful rays.
Plus, their topcoat keeps them cool. The best dog brush for Husky dogs is one that is gentle and is able to de-mat their coats and remove dead fur while not harming the skin.
Best Brush For Siberian Husky Coats
The best brush for Siberian Husky fur is actually a set of brushes, when it comes to most dogs.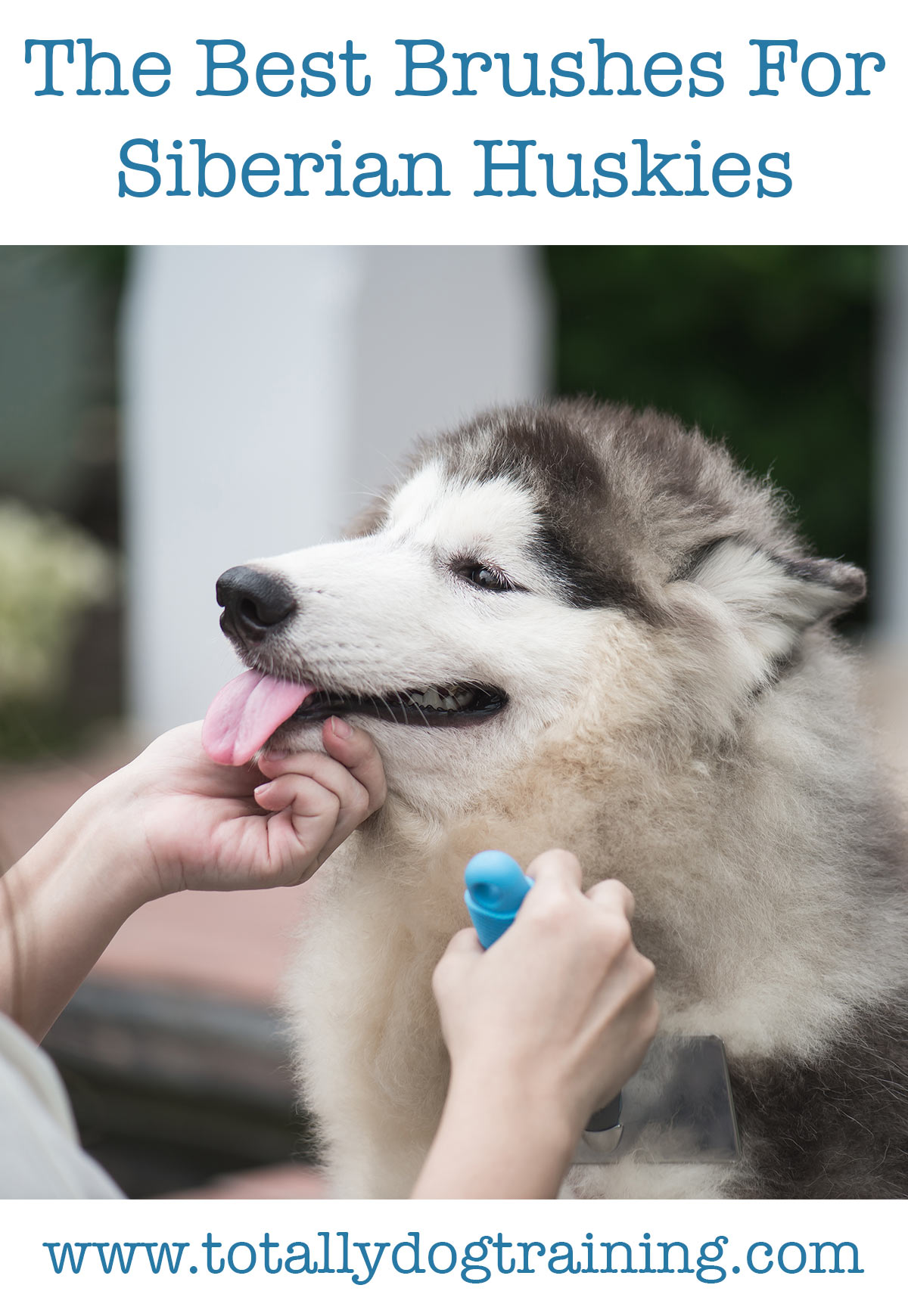 The bare minimum being a wide mouth comb, but the ideal being a comb, rake and slicker brush.
Furminators are a good type of brush for Siberian Husky.
Best brush for Siberian Husky Fur
Long Hair Furminators are very popular with and often considered the best brush for Siberian Husky fur.
If used properly they can remove hair effectively and efficiently.
But you need to use them gently and according to the manufacturers instructions.
Be careful to use the brush that is only meant for long coats, otherwise it can potentially damage your Husky's hair.
Never over groom with a Furminator in order to avoid damaging your dog's guard hairs, which protect them.
The FURminator deShedding Tool for Dogs
The FURminator deShedding Tool reduces shedding by up to 90% due to its ability to reach deep into your pup's coat to remove loose and dead hair.
It has an ergonomic handle so that it's comfortable in your hand, and feels good on your pet's fur.
This is a good brush for large dogs and who have long coats, such as Siberian Huskies.
You can find out more about it here.
But a Furminator is of course not your only choice. There are lots of great Husky grooming tools to consider.
Husky grooming tools
Below are some suggestions for Siberian Husky grooming tools that can work well for your dog and will have your dog staying happy and looking great!
One or more of these could well be the best brush for Siberian Husky regular grooming sessions in your home.
Safari Pin & Bristle Brush for Dogs with Wood Handle
The Safari Pin & Bristle Brush is simple brush that's great for Huskies in the large size.
The brush helps to distribute natural oils and to leave your dog's coat shiny and healthy while lifting out any dead hair or debris.
Glendan Dog Brush Brush- Slicker Pet Grooming Brush- Shedding Grooming Tools
The Glendan Dog Brush removes matted hair, dander, dirt and other debris from your precious pup's fur.
It comes with a pet slicker brush to massage your dog and help circulation and to keep skin healthy.
The Quality Self-Cleaning Slicker Brush
The Quality Self-Cleaning Slicker Brush is good for dogs with long hair like huskies.
It removes dirt, tangles, loose fur and mats.
This brush has a self-cleaning feature that allows you to push a button and wipe, to clear the brush of debris.
It is gentle and safe on your pet's fur. The self-cleaning option makes for less cleaning time too!
Best brush for Siberian Husky undercoat
One type of husky hair brush that works well is the undercoat rake.
The rake has long teeth that help remove the undercoat when it's time to shed the double coat.
It gets down close to the undercoat hair and should easily remove them.
Safari Pin & Bristle Brush for Dogs with Wood Handle
The Safari Pin & Bristle Brush distributes your dog's natural oils so that their coat is left shiny and healthy.
It is a good, simple brush for every day brushing on huskies and other long haired dogs.
Evolution Undercoat Rake
The Evolution Undercoat Rake comes in two sizes, a double or single row with rotating pins to remove undercoat fur and prevent matting.
The undercoat rake's rotating pins pull through the coat without damaging it.
It's good for brushing and combing before a bath to prevent hair loss and messy hair in the drain.
PawsPamper Undercoat Rake for Dogs
PawsPamper's Undercoat Rake is gentle on your dog's skin and features rounded blade edges for comfort.
Pets will love being brushed with this rake! It's great for huskies and their double coats and leaves their coat full and healthy.
Husky shedding brush
Whilst you don't necessarily need a separate tool for grooming your dog when they are in a high shed period, some owners do find it useful.
Any of these could be the best brush for Siberian Husky moulting seasons!
Pet Republique Dog Dematting Tool for Dogs
The Pet Republique Dog Dematting Tool removes your dog's loose undercoat of fur and dead hair, and helps to eliminate problems with skin irritation.
It also prevents matting.
This brush features a row of stainless steel pins that are designed to pull through the coat without hurting your pet's skin.
Pro Slicker Brush for Dogs
The Pro Slicker Brush for Dogs provides the best in grooming for medium to large dogs.
With gentle bristles that move through your dog's coat easily, it can also get out the toughest mats.
It is possibly the best brush for Siberian Husky dogs with thick coats and sensitive skin.
GEEPET Self Cleaning Slicker Brush for Dogs
The GEEPET Self Cleaning Slicker Brush is a self-cleaning brush that removes hair easily and makes grooming fun for your pet.
Because it's self-cleaning, it only takes 5 seconds to clean so that you'll be done in a snap.
Husky grooming guide
Know you know what the best brush for Siberian Husky fur includes, let's tackle how to brush a Husky,
When first grooming your husky, do it gently. Use this time to get to know your dog.
Allow the dog to stand or lay quietly as you brush and groom him.
You may also like bathe your dog first for good results, but do not brush until their fur is completely dry.
To remove the undercoat, use your brush or rake and go in the direction of the fur to lift the hairs gently.
Keep going until all of the fluffy undercoat appears to have been removed.
How to groom a Husky's top coat
The wide toothed comb is ideal for this part, with round teeth to break down the mats if needed.
Brush from neck to shoulder and towards chest, waist, and stomach.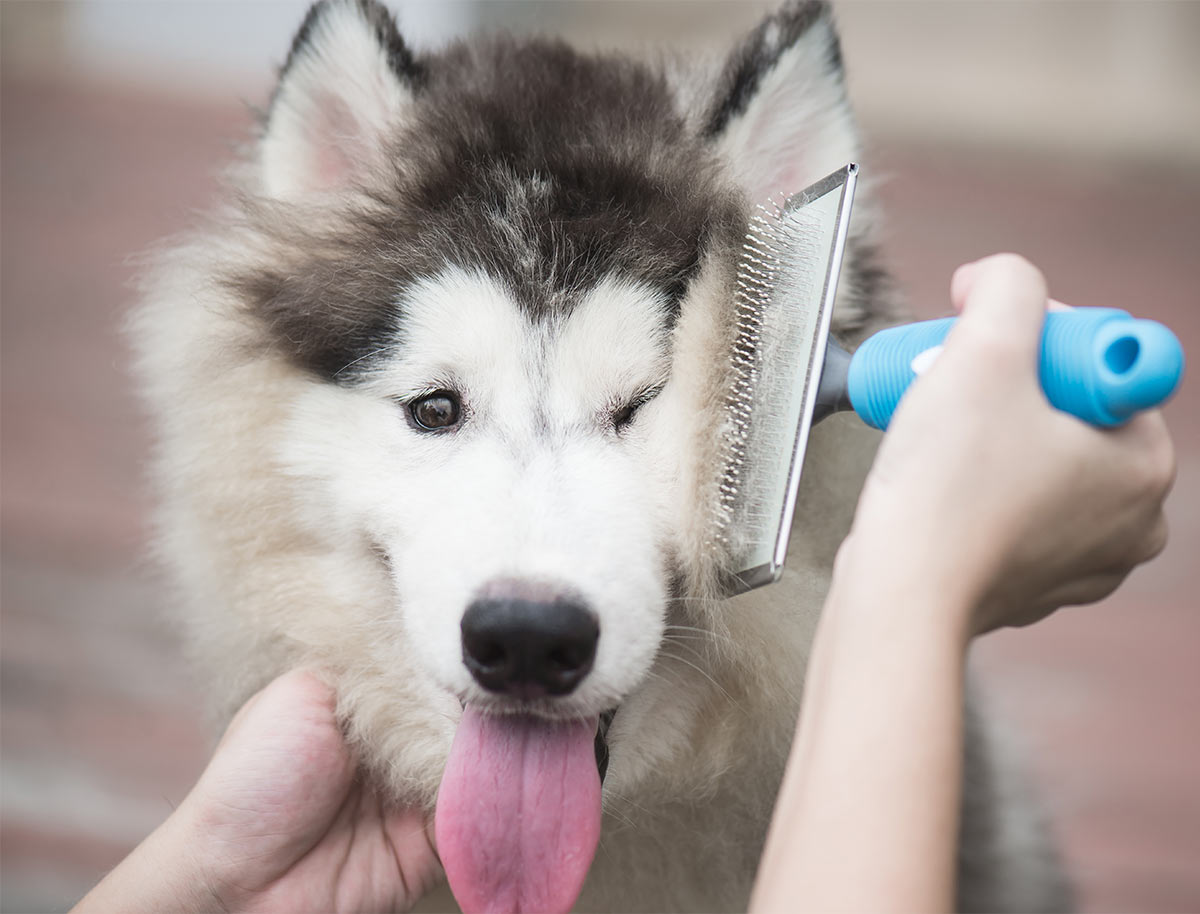 Grooming the rear legs and tail last of all.
Brush the coat the way the hair grows and with small sections at a time, towards the bottom of the coat.
Gently run the comb through, being very gentle with any snags.
Do not apply too much pressure.
How often should you groom a Husky dog?
Because Huskies are easy to care for and groom, the task is not as arduous as some might think.
Hair should be brushed and does not need trimming. Regular brushing can be done weekly to keep your Husky's coat healthy, shiny and clean.
Most Huskies also shed throughout the year, so grooming is important for your loving friend.
In winter, you should definitely make it a habit to brush your dog weekly because although they may not be shedding, the husky will still need proper brushing so their hair doesn't get matted.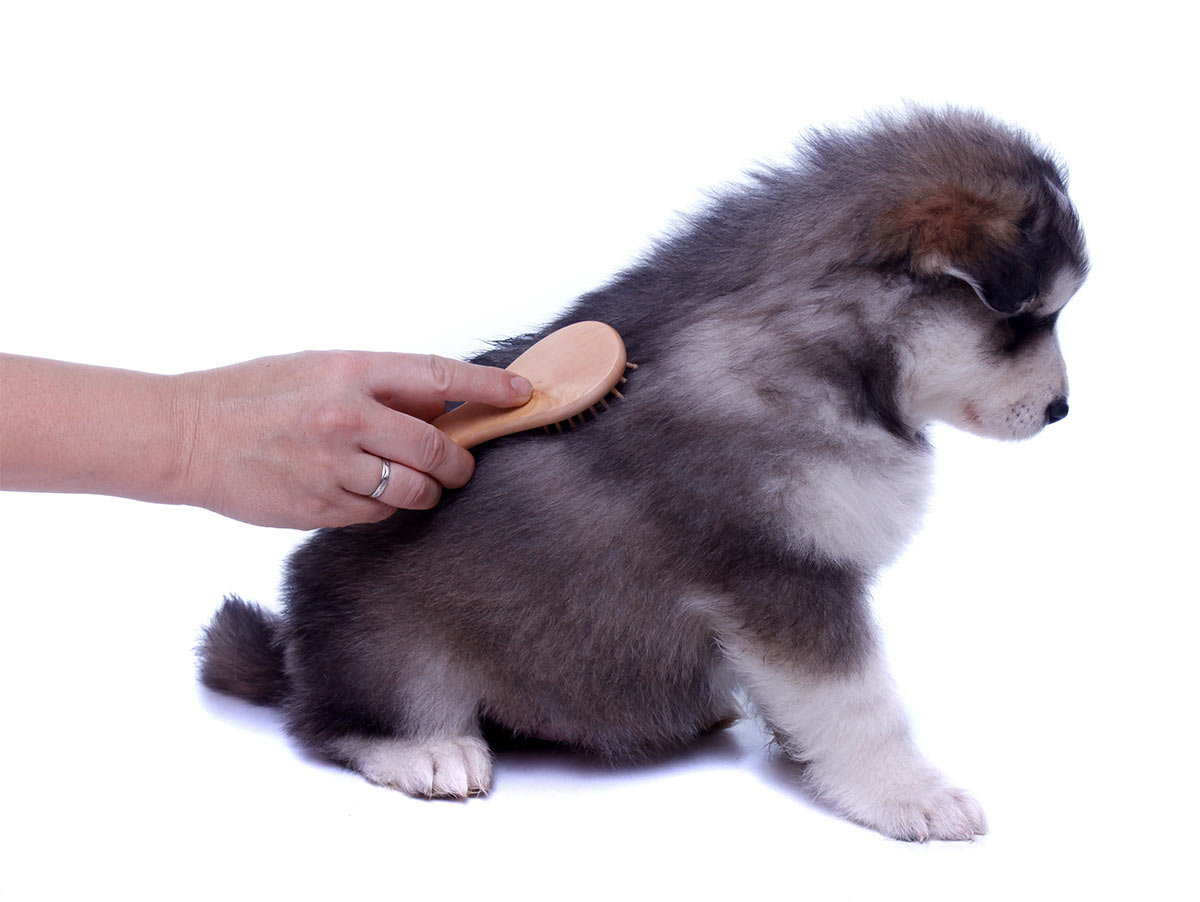 Some people tend to forget about grooming as the winter turns cold and this is a big mistake.
In the wet months the coat can begin to mat if it is not regularly brushed, matting destroys the insulating properties of the undercoat and makes for a very cold husky.
What Is The Best Brush For Siberian Husky Fur?
The best brush for Siberian Husky coats is one which can gently but effectively remove shed hair from both the top and undercoat layers.
Most Husky owners will actually use more than one to achieve a good groom,
To cover all your bases, pick up a comb, slicker brush and an undercoat rake.
One type of dog brush for Husky dogs that should not be used is a stripping or shedding blade. These types of blades should be used for short-coated dogs only, not for removing your Husky's fur.
If you use the right tools, you can have fun bonding with your Husky while you carry out your regularly grooming!