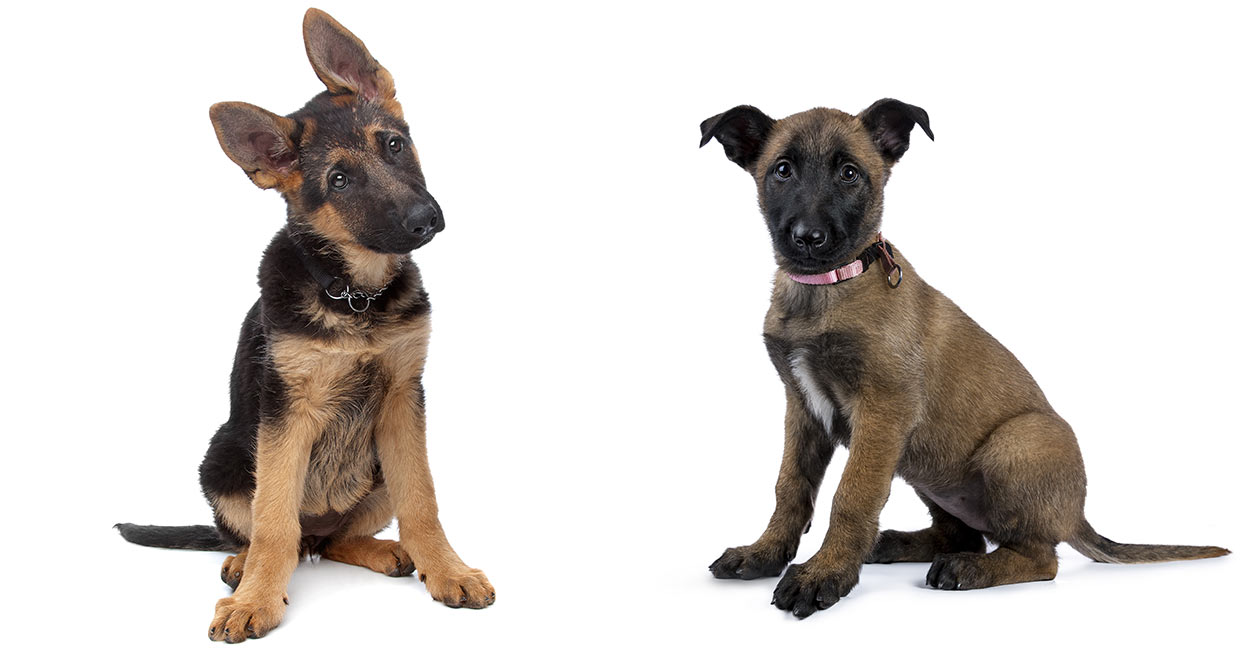 Belgian Malinois vs German Shepherd – it's a tough choice!
When Two Such Similar Breeds Are Your Final Choices, Making Your Decision Can Seem Near Impossible.
But Don't Worry, We're Here To Help!
Welcome to our comparison of the Belgian Malinois and German Shepherd.
You are on the search for a new dog, and you have narrowed it down to two breeds: the Malinois, and the German Shepherd.
Both dogs belong to the herding Sheepdog family.
They are commonly considered military or police dogs thanks to their common use in professional roles.
Both are intelligent, loyal breeds that can make great pets.
But how do you choose between these two breeds that are similar, yet unique in their own way?
Don't worry – we are here to help!
This article will give you all the information you need about the differences between German Shepherd and Belgian Malinois breeds.
There are certainly some similarities between these two popular breeds, but there are also some substantial differences that are important to be aware of.
Both breeds are loyal, intelligent dogs that can be trained with relative ease.
At the same time, both can potentially display aggressive traits and intense guarding instincts that are important to understand.
Also of key importance when choosing between Belgian Shepherd Malinois vs German Shepherd is to consider any potential health problems that these breeds can face.
We will cover these factors and more in the guide below – let's get started!
Belgian Malinois vs German Shepherd – which pet to choose!
The truth is that these are both awesome breeds. There is no "best" breed between the two.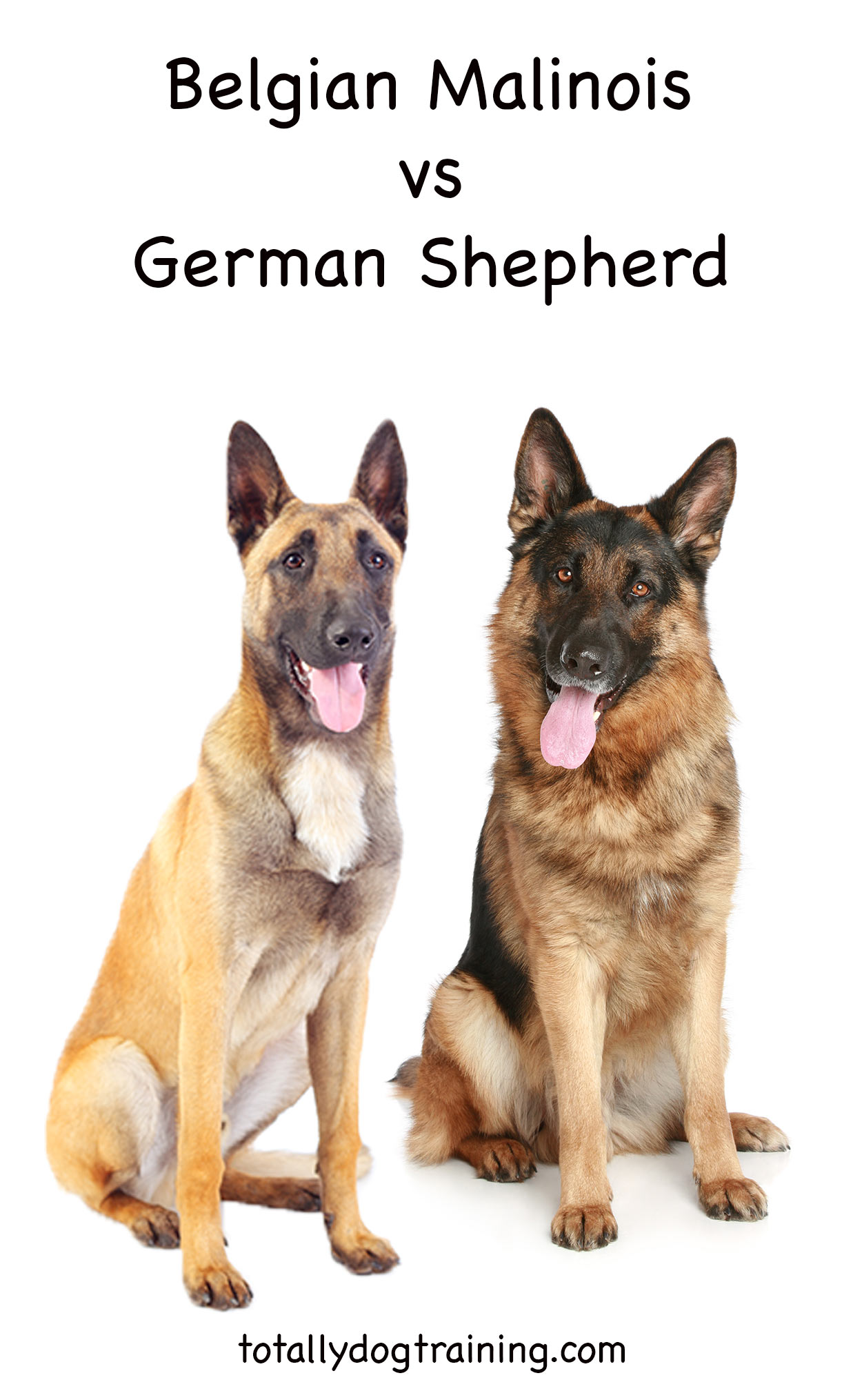 If you go with the wisdom of the crowd, the more popular pick is the German Shepherd.
In fact, the German Shepherd has been the 2nd most popular dog breed in the US for 4 years running, second only to Labrador Retrievers.
The Belgian Malinois is much less common, coming it at the 47th most popular breed.
Of course, popularity is not everything.
Both dogs have unique characteristics to consider.
Choosing the right option for you comes down to your own preferences and lifestyle.
The right breed for you might not be the right breed for your neighbor, your sister, or you cousin Bill.
Some things to keep in mind while making your decision are: your tolerance for shedding, your lifestyle and activity level, and your experience with dog ownership.
We'll dive deep into each relevant category in the guide below. For now, remember this:
Both breeds can be fantastic canine companions.
As long as you source a puppy from a reputable breeder that has conducted health tests and raised the pups well, you really can't go wrong with either of these breeds.
Provided you are prepared to give them lots of time and attention, and socialize them thoroughly.
What is the difference between Belgian Malinois and German Shepherd dogs?
Belgian Malinois vs German Shepherd – what's the difference?
At first glance, these two breeds look quite similar.
So much so that folks who are unfamiliar with the breeds might initially think they are the same.
Both have physical features that are similar: pointed ears, a lean, muscular body, and a brown/black/tan coat.
Their temperaments are also similar (loyal, confident, watchful, intelligent).
But there is certainly a difference between German Shepherd and Belgian Malinois dogs.
While their heights are similar, the German Shepherd can run a little heavier than the Malinois.
Perhaps the most noticeable physical difference is in their coat length.
The Belgian Malinois is short-haired, while the Shepherd has medium length hair.
Let's continue with a closer look at each of the primary differences between these breeds.
Belgian Malinois vs German Shepherd size
The German Shepherd tends to be a bit heavier than the Malinois.
Both breeds have height ranges from 24–26 inches (60–65 cm) for males, and 22–24 inches (55–60 cm) for Females.
The main size difference is in weight.
For the German Shepherd, weight ranges from 66–88 lbs (30–40 kg) for males, and 49–71 lbs (22–32 kg) for females.
For the Belgian Malinois, a range of 64–75 lbs (29–34 kg) for males, and 55–66 lbs (25–30 kg) for females is standard.
Thus, the dogs are typically very similar in height, but the Shepherd tends to run a little bulkier.
Malinois vs German Shepherd grooming
The German Shepherd will require more grooming and brushing than the Malinois, due to the difference in hair length.
Your Shepherd should be brushed 2-3 times per week to help reduce the mess made by continual shedding.
Bathing should take place only when necessary, as giving baths too frequently can strip fur of important natural oils.
Both breeds should have their nails trimmed every few weeks, and ears should regularly be checked for signs of infection.
Both breeds also enjoy chewing (particularly Shepherds), so keep a stock of bones on hand to keep your dog happy and help remove tartar buildup on teeth.
Belgian Malinois vs German Shepherd shedding
German Shepherds are sometimes jokingly referred to as "German Shedders" because of their tendency to shed prolifically.
Shedding is a year-round ordeal with the Shepherd, so regular brushing is recommended.
Additionally, the German Shepherd will shed significant amounts of hair all at once, about twice per year.
Shedding is milder on the Belgian Malinois, thanks to their shorter hair.
They are considered moderate shedders, but will shed more heavily during seasonal changes (spring and fall). They should be brushed weekly.
Belgian Malinois vs German Shepherd temperament
Both breeds share certain behavioral characteristics. They are intelligent, and can be aggressive, protective and alert.
Both the Malinois and German Shepherd are hard-working dogs that are used in a variety of important roles, including police work.
The German Shepherd is generally considered to be less aggressive than the Malinois. Though we don't have any research to back this up.
The Belgian Malinois is a bit more energetic than the Shepherd, and therefore will need more exercise.
Both dogs enjoy an active lifestyle, but the Malinois has better endurance and will need more exercise to remain happy.
Both dogs are somewhat reserved when it comes to meeting new people and even other dogs.
It can take some time for these breeds to warm up to new experiences and people – but once they do, they are extremely loyal and loving.
The German Shepherd is more prone to separation anxiety, although both breeds can display the trait.
It's vital to keep in mind that most of these temperament factors and behavioral tendencies can vary significantly depending on how the dog is raised.
Both these breeds have the potential to be overly aggressive and destructive if they are not trained and socialized properly.
Given the reserved nature of these breeds, socialization from a young age is very important.
If possible, we recommend asking the breeder to meet the parents of your potential pup.
The best way to predict the future temperament and behavior of your puppy is to meet its parents – particularly the mother.
Malinois and German Shepherd guarding tendencies
When comparing the Malinois dog vs German Shepherd, it's important to understand that both of these breeds display guarding tendencies and a protective nature.
Without proper training and socialization, both the Malinois and the GSD can become overly aggressive or protective.
Not ideal traits in a family pet.
As with any breed, the temperament and aggressiveness of these two dogs depends on a variety of factors, including:
Genetics and the behavior of their parents
The quality of their breeding and what they were bred for
The temperament of the parents
How they are treated and trained, particularly as a puppy
Both dogs were originally bred to be working dogs and are descended from sheep herders – so it makes sense that there is a natural instinct to protect.
Those natural instincts will not go away, but that's okay. You can improve your odds by carefully picking parents for their friendly natures.
Beyond that what really matters is how the dog is socialized and trained.
German Shepherd dog vs Belgian Malinois training
Proper training is vital for all breeds, but it's particularly important for the German Shepherd and Belgian Malinois.
Dogs should be trained and socialized from a young age for best results.
The Belgian Malinois is typically a bit easier to train than the German Shepherd.
Both dogs are highly intelligent, but the Malinois tends to be more enthusiastically involved in training activities.
With that said, the German Shepherd can also be trained to do almost anything.
GSD's are regularly used as police and military dogs, seeing eye dogs, search and rescue workers, and more.
Both dogs respond well to positive reinforcement training.
Do NOT punish your dog or practice the outdated theory of dominance training
While the concept of the "Alpha Wolf" certainly exists in nature, dog dominance is a poorly understood concept in the modern age. It is not beneficial to try to dominate your dog or punish him for bad behavior.
In many cases, this can backfire – particularly with potentially aggressive breeds.
To train your Malinois or GSD, the key is to start early and train often.
Use positive reinforcement training – giving treats and verbal praise – to create a sense of trust and enjoyment for your pup.
You want your dog to be excited to learn – and these breeds are naturally eager to please, if treated well.
Socialization is also vital for these breeds. Both can be hesitant to meet new people and dogs, but they will be more friendly and outgoing in general if they are socialized from a young age.
Belgian Malinois vs German Shepherd intelligence
In terms of intelligence, the Belgian Malinois compared to German Shepherd are quite similar.
Both dogs are considered very intelligent.
It's no surprise, given that these breeds are popular choices for professional working dogs.
GSD's in particular are commonly tasked with doing police and military work, drug sniffing, and seeing eye dog roles.
Both dogs are intelligent and good at problem-solving.
Some claim that GSD's are more intelligent than the Malinois, but canine intelligence is a difficult trait to measure definitively.
What is a definite truth for both breeds is that proper, early training is required to capitalize on these breeds' intelligence.
Health Problems: Belgian Malinois compared to German Shepherd
So, who is the winner when it comes to Belgian Malinois vs German Shepherd health?
When choosing a breed, it's always important to be aware of potential health problems that your dog may face.
Here are the most common issues for these two breeds:
German Shepherd health problems
Perianal fistula, a disease marked by draining sores around the anus, is most common in German Shepherds.
It can cause painful defecation, bloody stools, etc.
The good news is that in clinical trials, the condition has been successfully regulated via a strict diet of potatoes and fish.
Megaesophagus, a condition involving a limp esophagus that makes it difficult to swallow food, is seen at relatively common rates in GSDs.
Affected dogs will begin to show signs (vomiting) as they are weaned onto a solid diet. This is a lifelong condition, but can be regulated via a liquid diet.
Hip dysplasia, a common and painful hip disorder is common among many breeds, including German Shepherds.
Being a genetic disorder, this condition can usually be tested for.
Other conditions, including osteoarthritis, degenerative myelopathy (a progressive weakening of the rear limbs), and eye problems are also seen commonly in German Shepherds.
Belgian Malinois health problems
Hip and elbow dysplasia, a group of painful genetic disorders, is commonly observed in the Belgian Malinois.
Eye issues, including progressive retinal atrophy and cataracts, are also observed in this breed.
Other conditions, including hemangiosarcoma (an aggressive cancer), pannus, and skin allergies are relatively common in Belgian Malinois.
Other health problems are of course possible in either breed, but these are the most common issues reported by owners.
Belgian Malinois vs German Shepherd – which pet is right for me?
So, what will it be – Belgian Malinois or German Shepherd?
Ultimately, you're the only one who can make that decision.
There's no direct recommendation we can make, but we hope that we have given you the resources and knowledge necessary to make the right choice for you.
When comparing the Belgian Malinois dog vs German Shepherd, consider the pros and cons of each breed.
For example, GSD's tend to shed more and are more prone to certain health problems, while the Malinois can be more aggressive and energetic.
Consider your lifestyle, review the factors that are most important for you, and choose wisely.
And lastly, rest easing knowing this: as long as you choose your pup carefully, train and socialize it well, and treat it with love and care, either breed will make a fantastic pet!
Once you make your decision, leave a comment – we'd love to hear which one you chose!
Resources