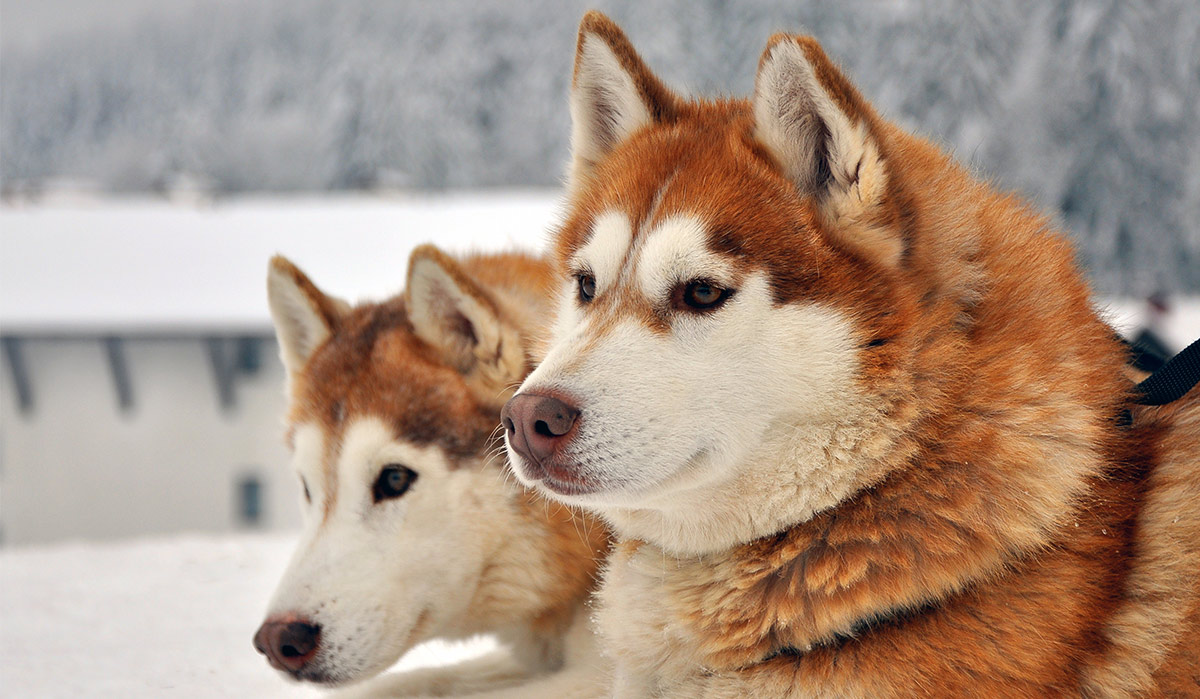 The Alaskan Husky Is An Amazing Dog. Strong, Energetic And Determined. They Make Fabulous Sled Dogs, And Can Survive The Harshest Of Conditions.
But Do They Make Good Pets? And Could You Offer Them Everything They Need?
If you've ever watched one of those documentaries about the hard-working, seemingly tireless dogs who pull sleds in snow races, you were probably marveling at the Alaskan Husky dog.
Most Alaskan Husky fans are surprised to learn the Alaskan Husky dog isn't actually a true purebred dog breed. But rather is a certain distinct class of working sled dog!
These amazing dogs are bred for speed, stamina, perseverance and intelligence.
Not to mention keen eyesight and sense of smell, a calm personality and overall trainability.
However, for these reasons Alaskan Husky class dogs also need a certain specific type of lifestyle to thrive as a domestic pet dog.
Every baby Alaskan Husky puppy is bred with an eye towards producing a certain set of personality and behavioral traits.
his can make it more challenging to predict later life health issues at the puppy stage of life.
If you have been considering bringing an Alaskan Husky mix dog into your life, this article will help you decide if this is the right companion dog for you!
What is an Alaskan Husky?
It is true that you may or may not ever see visual hints of some of the dog breeds that are often interbred to produce the working class dog known as the Alaskan Husky.
Today's Alaskan Huskies are descended from a long line of various high quality dog breeds.
Including but not limited to these major purebred canine bloodlines:
Inuit native sled dogs (a 4,000-year-old Alaskan native dog breed that is also a veteran military service breed from as far back as World War II!).
American Eskimo dogs.
Siberian Husky dogs.
Alaskan Malamute dogs.
Chinook sled dogs.
Greyhound dogs.
German Shorthaired Pointer dogs.
Standard Poodle dogs.
Alaskan Husky History
The first Alaskan Huskies were bred by Inuit mushers (native Alaskan sled drivers).
To this day in Alaska, the dog known as the Alaskan Husky is described as a "purpose-based breed". A breed bred to do something, versus a breed bred to look a certain way.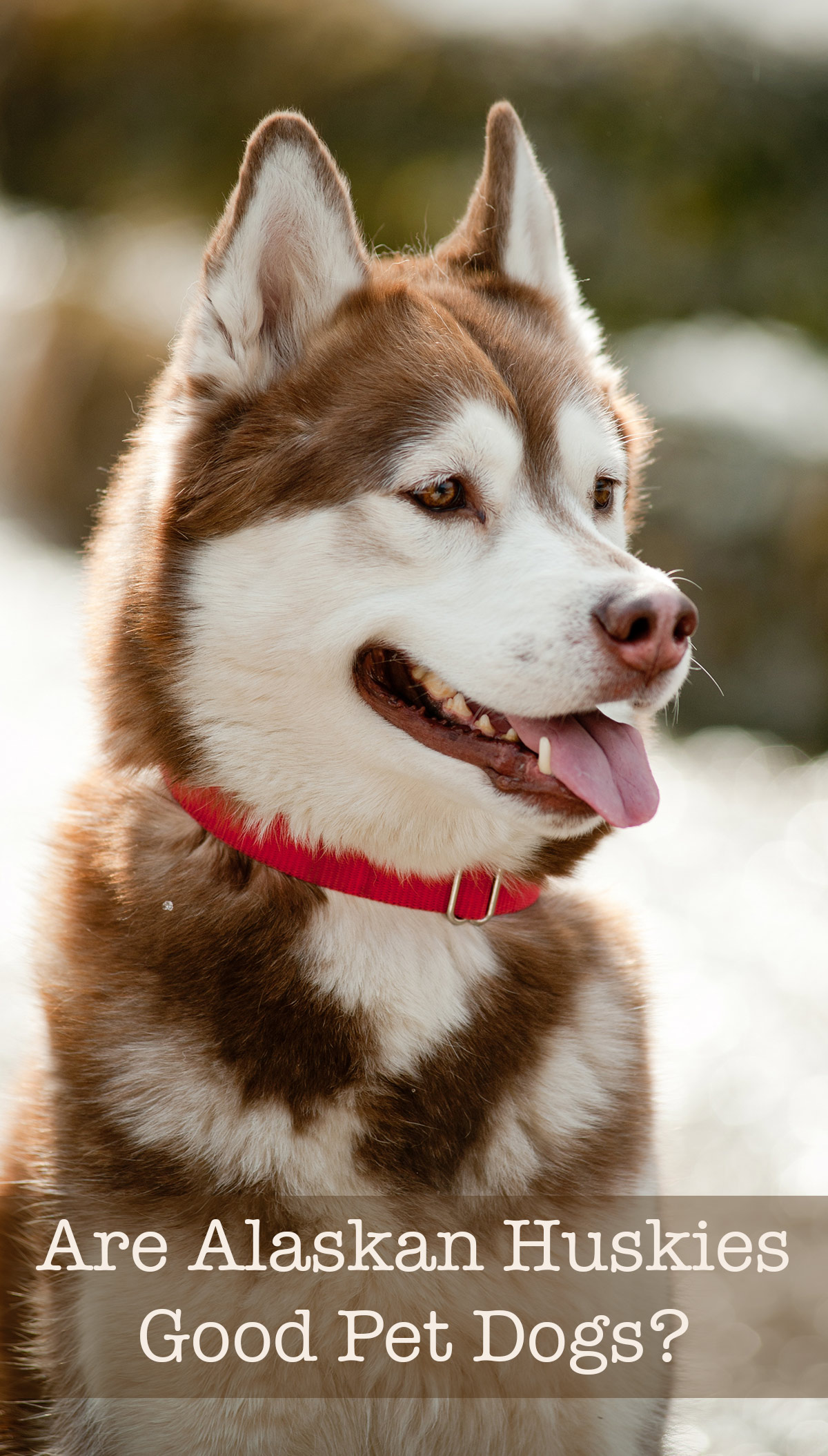 Overall, the Husky appearance traits still tend to dominate over other purebred genetic contributions. This is why coloration and size are the most significant visual variations in Alaskan Husky mix dogs.
For example, you may see a black and white Alaskan Husky dog, an all white Alaskan Husky dog, a black Alaskan Husky dog, and even a mini Alaskan Husky dog based on differing parent dogs!
Brown is the predominant eye color, although occasionally you may see an Alaskan Husky blue eyes puppy.
As well, today's musher-breeders have begun to breed specifically for shorter and longer coats.
Using short-haired Alaskan Husky dogs for sprint races and long-haired Alaskan Husky dogs for endurance races.
The main reason for the breeding shift here is how the length of the dog's coat affects an Alaskan Husky's ability to control body temperature.
Alaskan Huskies that are bred to be sprint racers need to shed heat more easily, which the short coat assists with.
Conversely, Alaskan Huskies bred to be distance racers need the longer coat, which provides vital insulating warmth on chilly long distance and overnight runs.
Alaskan Husky vs Siberian Husky
An Alaskan Husky is bred to work, while a Siberian Husky is bred both to look a certain way and to work.
As such, only the Siberian Husky is a purebred dog breed which can be registered with the American Kennel Club (AKC).
Due to varying parentage, there will always been more variance in the looks of an Alaskan Husky dog than in a Siberian Husky.
Otherwise, both dogs are high energy, active, working dogs with similar diet, coat maintenance, lifestyle and companionship needs.
Siberian Huskies will have blue eyes, whereas most Alaskan Husky dogs will be brown eyed.
Alaskan Huskies can also vary a lot more in height and weight.
Alaskan Husky weight
Depending on parentage, the typical Alaskan Husky dog may weigh anywhere from 35 to 60 pounds, with adult males typically outweighing females.
Alaskan Husky special climate needs
Alaskan Husky dogs have an amazing tolerance for cold.
In their native Alaska, these dogs regularly work and race in temperatures as low as -60 degrees Fahrenheit (-51 degrees Celsius) or lower!
However, the Alaskan Husky dog can acclimate to warmer climates, so long as care is taken to protect your pup from over-exposure to too-warm temperatures.
Providing access to an indoor living area with air conditioning is particularly advisable if summers in your area get very hot.
Never shave or severely trim the Alaskan Husky's coat, which not only provides moisture wicking to keep your pet cool, but also protects your dog from getting sunburned.
Alaskan Husky lifespan
The Alaskan Husky typically lives between 10 and 15 years. A puppy's parentage can impact life span.
The more closely you can match the Alaskan Husky's ideal environment, diet and lifestyle, the healthier and more long-lived you can expect your dog to be.
The original Alaskan Husky is a tireless working dog.
Running all day and night in distance races or while assisting owners with hunting, transportation and other seasonal needs is normal for this dog.
This also means you should plan to feed your Alaskan Husky dog a dog food blend designed for an active working dog.
However, to avoid issues of overweight or obesity, it will be critical to work with your family veterinarian to adjust portion sizes to accurately reflect how active your domestic Alaskan Husky dog is on a daily basis.
Alaskan Husky temperament
The Alaskan Husky dog is an incredibly energetic dog. If this dog doesn't receive sufficient opportunities to run, play, work and exercise each day, it can impact your dog's behavior and health.
Even with this need met in full, however, there can be a lot of variation in Alaskan Husky temperament due to parentage.
It is important to be aware of this when you are selecting a puppy.
Overall, you want to pick a puppy that is active, bright and clear-eyed, curious and unafraid, amenable to being held and eager to play.
The Alaskan Husky temperament profile suggests that a well-bred puppy will be intelligent, independent, eager to learn and train, affectionate, loyal, cuddly and adventurous.
However, these traits can go south for any Alaskan Husky dog who is insufficiently active or left too long alone.
In this case, the potential for destructiveness, disobedience, escaping and serious behavior problems is quite high.
These are active dogs that need companionship throughout the day, along with plenty of exercise and training.
Alaskan Husky health
Today's Alaskan Husky breeders continue to breed for traits over appearance. With the exception of the short versus long-haired coat mentioned in an earlier section.
Breeders find value in diverse cross-breeding both for building desired traits and to reduce the risk of known purebred dog health issues.
Genetically speaking, the less closely related the parent dogs are, the lower the risk of passing along genetically transmitted health issues to the pups becomes.
That is not to say the risk doesn't remain, and it is vital to learn as much as you can about the parent dogs' genetic line, background, known health issues and general breed-specific health issues before you pick out a baby Alaskan Husky puppy.
With sufficient research, your veterinarian can then assist with specific genetic testing to determine what if any heritable health risks your chosen puppy may bear.
Inherited Health Problems
Here are some specific known heritable health issues you may want to test for before making a firm commitment to an Alaskan Husky puppy:
Progressive retinal atrophy.
This inherited eye disease causes progressive degeneration of the retina in both eyes. Eventually it leads to blindness.
Hypothyroidism.
Recurring health issues such as skin flaking or black patches, weight gain, cold intolerance, ear infections and low energy can indicate hypothyroidism, an inherited condition where the thyroid gland doesn't make enough of a hormone called thyroxin.
Congenital larynx paralysis.
This congenital disorder causes gradual paralysis of the larynx, which can lead to a wheezing sound as the dog breathes. This disorder is so common in Huskies it has given them the nickname "wheezers."
Lysosomal storage disease.
This class of metabolic disorders is thankfully rare, but is always fatal, and usually at a very young age (i.e. 4 to 6 months of age).
Hip dysplasia.
Hip dysplasia, where the hip joint fails to develop properly, is a fairly common condition among purebred dog breeds. In most cases, without a hip replacement operation, the affected dog will eventually be unable to walk.
Alaskan Husky Puppies
You may be wondering about the typical Alaskan Husky price and how much a puppy might cost.
A puppy from a top racing line can set you back a pretty penny, running anywhere from $10,000 to $15,000 per dog!
Otherwise, a healthy Alaskan Husky dog puppy from a good breeder but without a racing pedigree may cost anywhere from $1,000 to $1,500+.
Alaskan Husky breeders
A good breeder will be serious about their reputation and overall high quality of their Alaskan Husky litters. They will be amenable to answering these questions and requests. They may even volunteer the necessary information.
Be wary if you encounter a breeder who seems unwilling, becomes defensive. Some breeders who are less ethical will attempt to assure you that their litters are always "perfectly healthy". But without any proof, and the knowledge that  no such thing is biologically possible. In these cases the best response is to beat a hasty retreat.
Seek a different breeder who truly wants to sell you a healthy baby Alaskan Husky puppy!
Alaskan Husky rescue
Alaskan Husky adoption is more common than you might think.
These dogs are seriously active and high energy. A fact some owners discover only too late. Many people have realised  that what their Alaskan Husky dog needs can't be met up them.
It is not uncommon to find adult Alaskan Husky rescue dogs aged one year old and older at rescue organizations.
With time, training and dedication they may have the potential to still make a good pet.
Is an Alaskan Husky a good pet?
An Alaskan Husky is a mixed breed dog with parentage that can vary widely. Owner influence can have a great impact on whether any Alaskan Husky dog becomes a good pet or not.
Are you able to provide your Alaskan Husky dog with early and ongoing training? How about an active lifestyle and a healthy diet? What about plenty of human companionship?
If so, you are off to a good start.
You will also need an appropriately temperature controlled living situation. aAnd to be confident that you are able to maintain the active lifestyle your dog needs. Potentially for at least the next ten years.
If so, then you will have the best chance of experiencing all the best traits a domestic pet Alaskan Husky dog can exhibit!
References
Dean, D., "The RCMP and Quebec's Provincial Police Nearly Killed Off the Inuit Sled Dog," Vice News, 2013.
Friedman, S., "Alaskan Huskies are dogs bred to run," The Fairbanks Daily News-Miner," 2017.
Blue, C., "Be Informed About Your Puppy's Health," The Canine Health Information Center (CHIC), 2017.
Downing, R., DVM, DAAPM, DACVSMR, CVPP, CRPP, "Lysosomal Storage Diseases in Dogs," VCA Animal Hospitals, 2017.
Lee, J.J., "What Makes a Great Sled Dog? Breed, Ambition, Tough Feet," National Geographic, 2015.